Ok so I purchased a T3200SX and it had this badboy in it: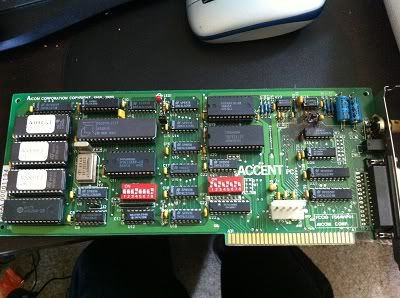 Full size:
http://i83.photobucket.com/albums/j307/ ... llsize.jpg
The drivers on the laptop detected the card OK but couldn't find any other software on there to make use of it.
I wasn't able to find any information on the internet so far, but here are the details:
Company: AICOM
Model: Accent PC
CPU: AMD 8085 (c) 1981
1 ROM chips labelled Accent 3.1, and two ROM chips labelled Accent 3 with a UM6264-12 below it
Other interesting chips - Votrax SC02, Toshiba TMP8251AP, and a Hyundai HY6116AP-12 8845A
Rest are basic 74 series chips (mostly), DIP switches, and a 5 pin power connector that wasn't connected in the laptop.
External ports: 25 pin unlabelled, and what looks ike a speaker/headphone jack with a variable resistor above it (guessing volume control)
It has a blown cap which has taken out a chip, but if its worthy it could be repaired easily, still gets picked up by the driver despite this.
Just want more info if anyone out there knows anything or could guess anything, much appreciated. My theory was to allow older software to run from DOS?