Good idea contacting him. You could probably just about attach his board directly to the SC-3000 by attaching the appropriate sized connector to the end to connect where the daughterboard does and adding a 5v feed. His wires are
Yellow: Video from expansion module
White: Audio
Orange: +5V power
Black: Ground for power and all signals
Red: Red (difference) signal
Blue: Blue (difference) signal
Green: Luma signal
and from the schematic the SC-3000 connector has
1: R-Y
2: B-Y
3: Y
4: GND
5: GND
6: COMP
7: RF
8: +9v
Edit - Ah - you would also have to add the audio feed, or take that off the existing composite output video connector. That would require another solder point, so maybe we just tell people to use the existing video connector for the audio.
Edit - does anyone know if that is a standard connector type used for the SC-3000 daughterboard? I haven't tried to find a compatible plug-in replacement yet.
I wonder if you can still buy these Coleco mod boards? If nothing else it would be interesting to see an original one. I just did a quick search and I couldn't find any obvious sign they are still for sale.
Yes, re end-user installation...agree, think 4095 board connector is still best idea - maybe run a short flat ribbon cable out a vent hole? Or, sneak it through the case between keyboard and front top cover?
I think the easiest for a plug-in removable mod would be the venting grills on the bottom half of the case. You wouldn't be able to see the cuts from the top and you don't have to remove any existing plugs at the rear of the case. You could just about cut the venting grills then slide one of the 8 pin plastic connectors with wires through there and plug in to the SC-3000 motherboard.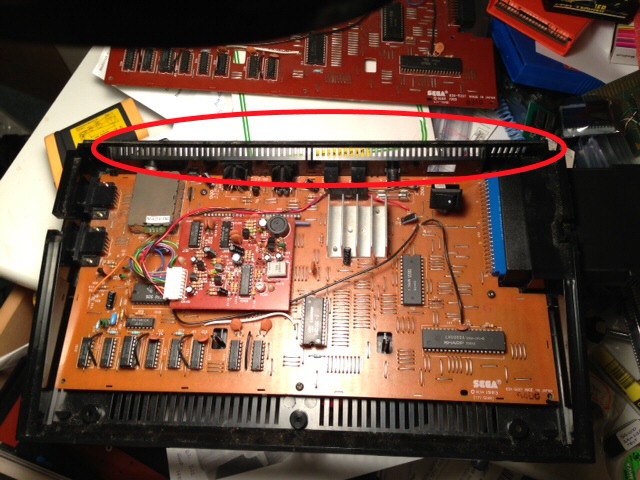 and here are the existing connectors from the rear - not much room to cut holes there