Upgrading the RAM in a Mac SE/30
My SE/30 Mac is the fastest baby Mac I own. In fact, it is my favourite Macintosh.
When I first got hold of this little unit, the hard drive was cluttered up with junk running under OS 6. As is usual with any computer with a hard drive which comes my way, I implemented a complete re-format and reinstall, in this case with OS 7.1. This was fine, but then I found the meager 2MB RAM this unit had just couldn't cut it once that larger OS was in place.
Time for a memory upgrade.
I read up about installing memory in SE/30s and found that memory needs to be installed in configurations of four. There are two banks (A and B), and either bank A or both banks must be full. The chips in each bank must all be of the same type.
I looked around for chips and eventually ordered 4 x 4BM simms off EBay. This would give me 16MB once I installed extra software to negate the 24-bit "dirty" ROM these Macs have (otherwise only 8MB can be addressed).
The chips duly arrived and I installed them today.
However, they didn't work. When I turned the Mac back on all I got was a little tune at the beginning and a checkerboard pattern indicating something wrong with the RAM. Hmmm... There is not much you can do with the RAM in these cases. Either it was faulty, or it just was of a brand the SE/30 couldn't cope with (which is possible).
However, all was not lost. Since I had he machine apart anyway, I went looking for some old RAM sticks in my spares box. And whatdayaknow, I found some! What's more there was 4 of them! 4 x 1MB Simms. I soon had these installed.
However there was a problem. In removing the original RAM, I'd snapped a clip on the RAM holder. In fact, a few of these had been snapped by previous upgraders. The one I snapped had its corresponding clip also missing so there was nothing to hold the chip in!
Anyway, mother is the necessity of invention so I just used a plain old rubber band to secure the chip to it's socket (see below).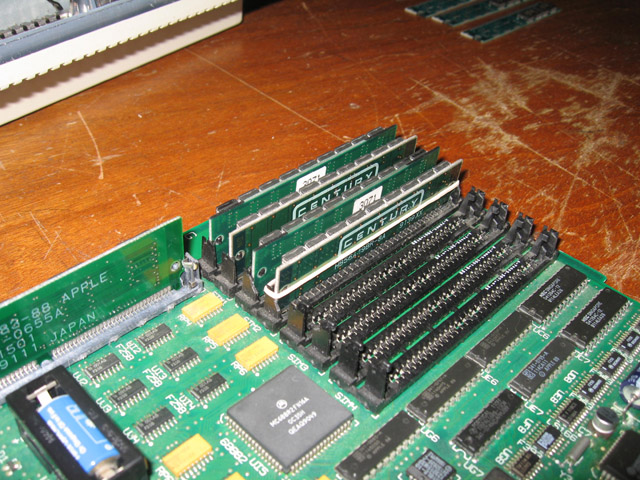 I inserted the original 4 x 256KB chips in the remaining Bank, reassembled and re-booted. Everything was as good as gold.
So, I now have a Mac SE/30 that can cope with OS 7.1. Sixteen MBs would have been good, but it seems to get along on 5MB just fine. I'll just have to check it every year to replace the rubber band!
Tez
23rd August, 2008