New Zealand Lower North Island Vintage Computer Meet
Introduction
In the Vintage/Classic computer world, most interaction takes place online through forums and social media. Even so, it's good to get together face-to-face occasionally. People can meet each other in the flesh and demo rare or interesting items.
Such an event was recently organised by MSX enthusiast and member of the New Zealand Vintage Computing Facebook group, Matthew Thredgold. It took place on April 18th, at Koputaroa Hall pictured below. This venue was close to Levin, a town about 95km from the capital city Wellington so a relatively central location for those in the lower half of the North Island.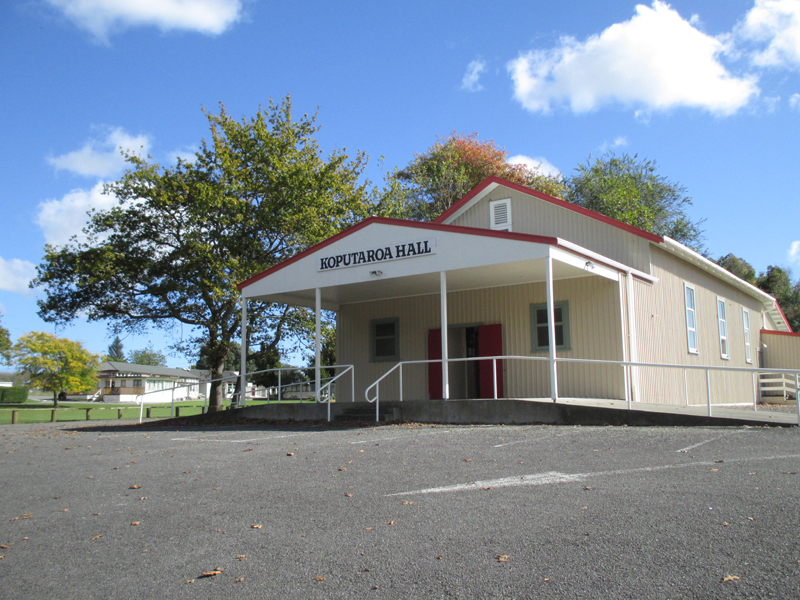 Pic 1. The Venue. A few kilometers North-East of Levin (Photo: Matthew Thredgold)
The following is a personal account of the meeting, told mostly through the photos shown here.
Welcome and Format
The event stared at 1pm. When I arrived, several folk were already there, setting up tables to display their treasures. These were mostly arranged around the hall with one display in an attached room (the kitchen?) and one on the side of the stage. One table had soft drinks and snacks provided by Matthew, to be paid for on an honesty basis. Another table had "freebies" where people could leave items for others to take.
Once everyone was present, Matthew welcomed us all. Regarding format, we decided that each of us would show-and-tell our displays to the group as a whole, after which we could converse and further inspect displays of interest for the rest of the afternoon.
What follows is a brief description of the displays, in order of appearance...
David Otter's Extravaganza
First up was David Otter's huge display of (largely boxed) vintage gaming exotica. This included a SVI 328, SVI605B, Coleco Games adaptor, SVI drawing tablet, SVI904 tape deck, extra Printer card and FDD card's for 605 expander, Tape games & utilities, Coleco came carts for the adaptor, 2 x Amiga monitors, Amiga CD32 & cd's, Coleco game console, Omega Open source MSX2+ and extra boards, MSX Cart boards, Omega MSX case prints, Robot Arm, MSX 767 Micro drive tape unit and a SVI 738 with gotek drive (whew!).
Dave's thinking about downsizing this large collection so there may be opportunities for others to own some of these treasures in the future.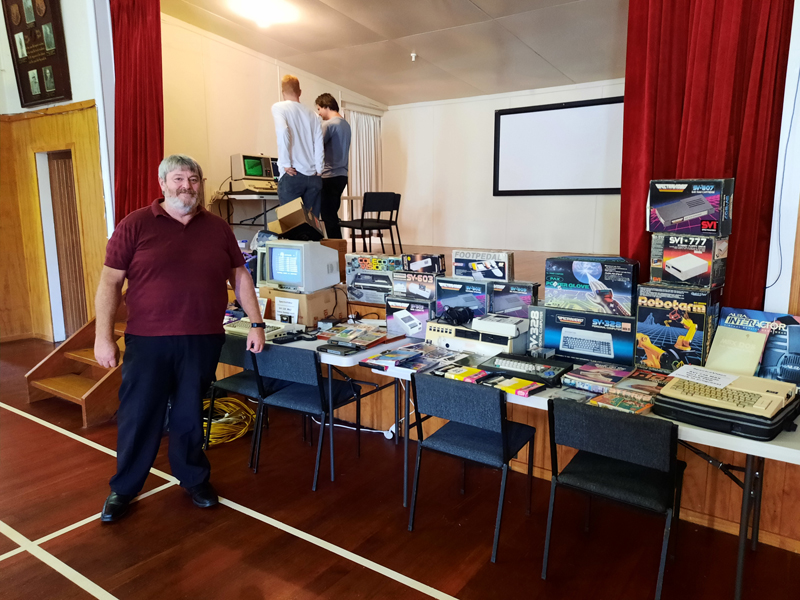 Pic 2. David Otter's impressive collection of vintage gaming gear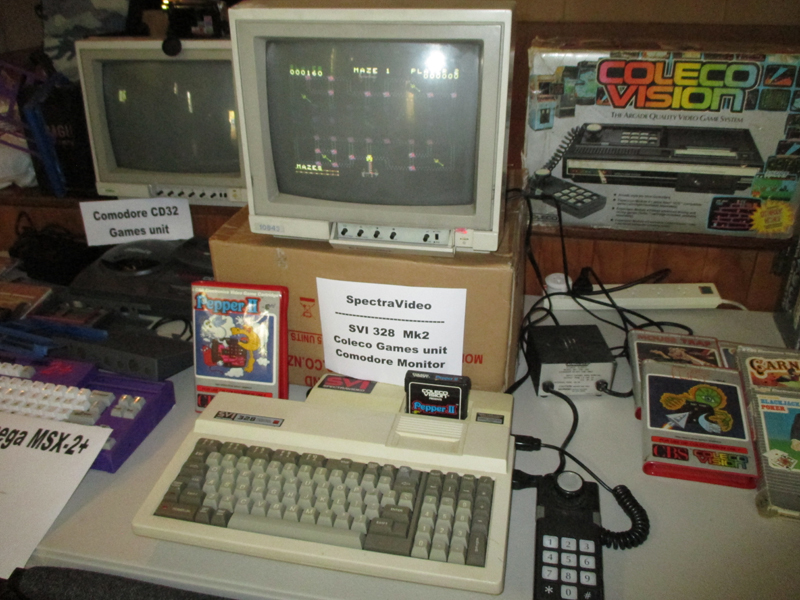 Pic 3. Some selected items from David's collection (Photo: Matthew Thredgold)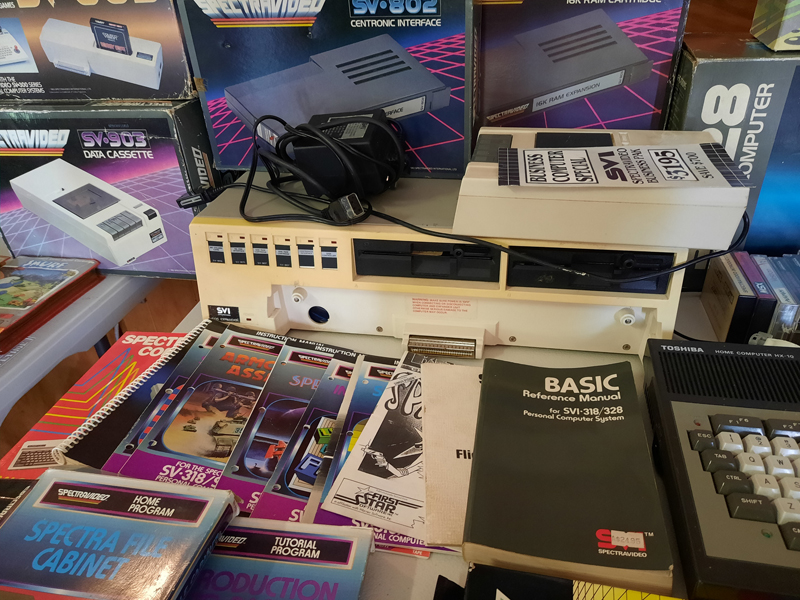 Pic 4. More of David's SVi goodies including a rare SVI expansion box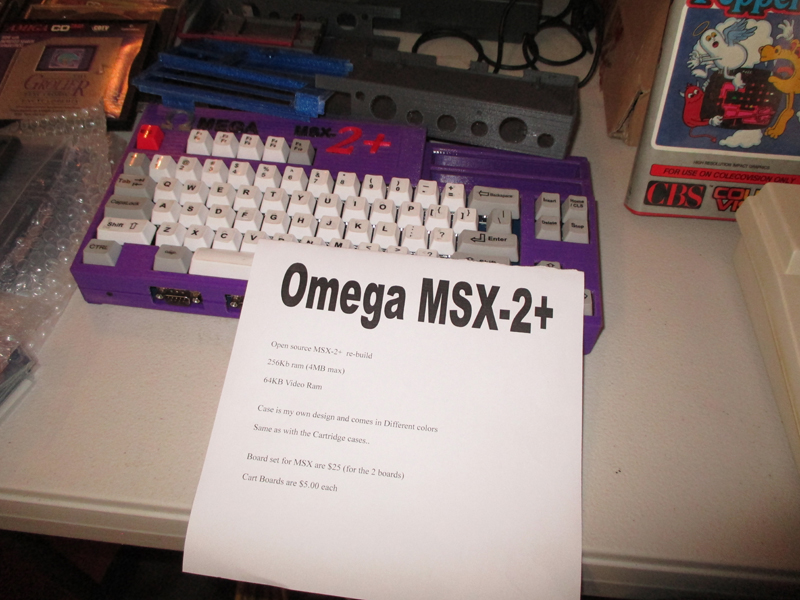 Pic 5. Another of David's items. A hardcore MSX computer (Photo: Matthew Thredgold)
After David, we worked our way down the left side of the hall where a number of early 80's business models were on display (Picture 6)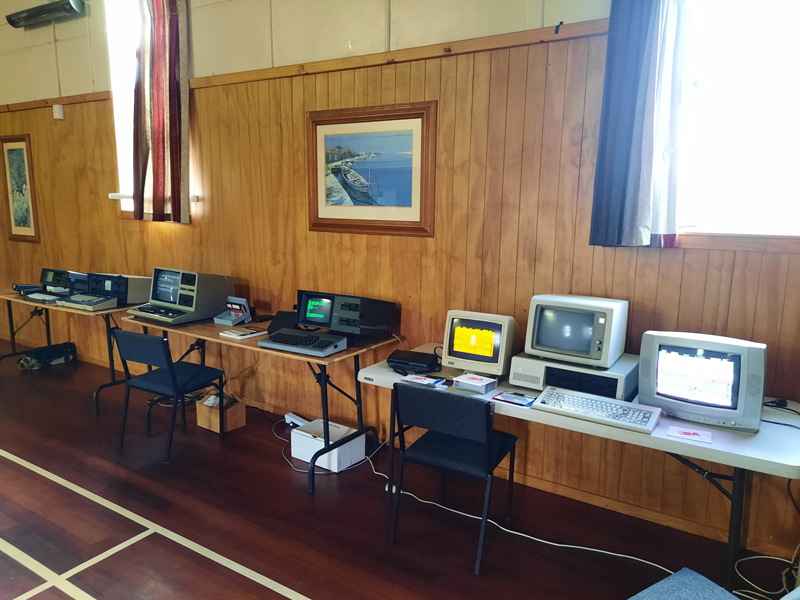 Pic 6. A line-up of iconic machines on the right side of the hall
Neville Clark's mix of portables
Neville showed off an SX-64 and Osborne 1. We all marveled how anyone could have used these tiny screens for business purposes!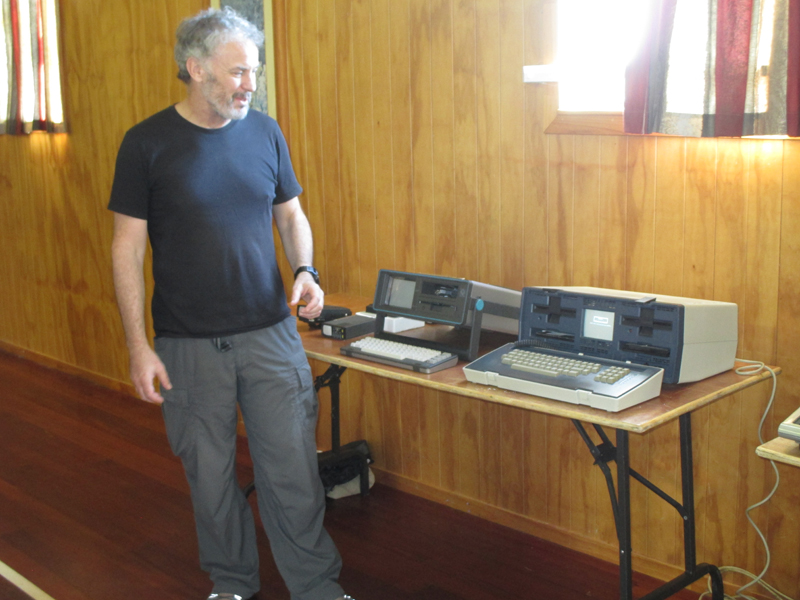 Pic 7. Neville explaining the idiosyncrasies of the Osborne 1 (Photo: Matthew Thredgold)
One interesting gadget Neville brought along was this miniature 1976 MTV1 Microvision from Clive Sinclair. Sir Clive certainly loved his gadgets!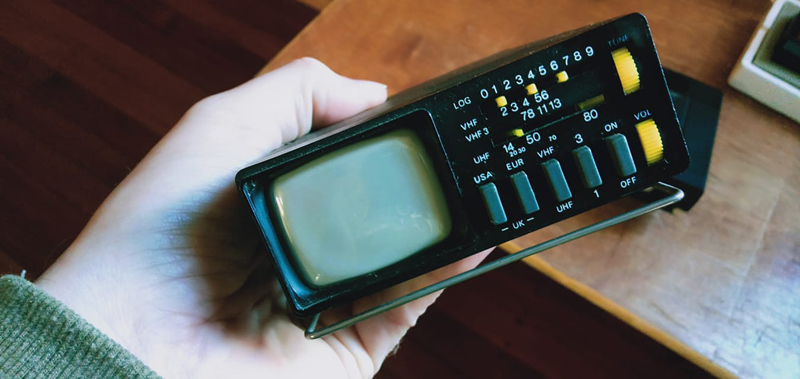 Pic 8. A special treat for us. A Sinclair micro television (Photo: Mark Macrae)
Philip Avery's TRS-80 Model III with enhanced graphics
Philip Avery discussed his special TRS-80 Model III which included a add-on high-res graphics board and sound synthesiser. Unfortunately, Murphy's law came to the fore and Philip's machine failed to load the disk containing the special software required to show the former off. Hall acoustics were unsuitable for the latter. Never mind though, this all-in-one TRS-80 made a handsome and dignified sight in its battleship gray livery.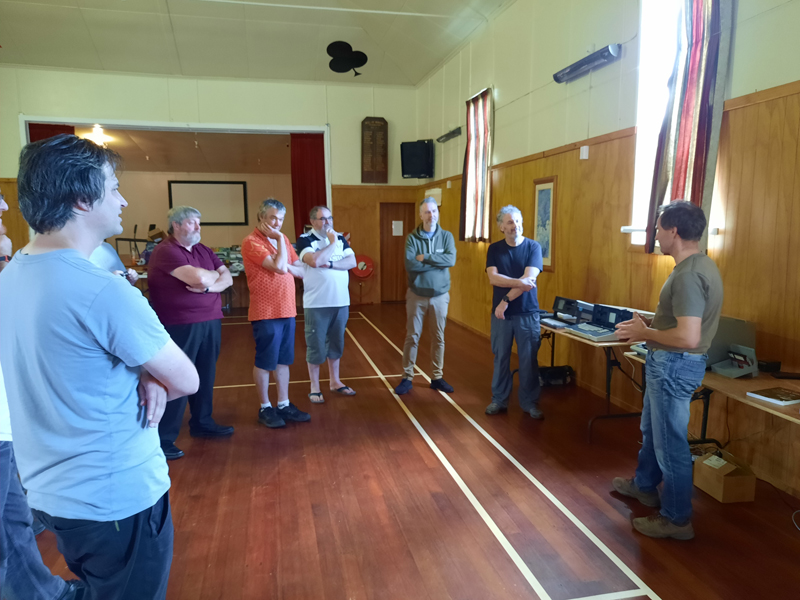 Pic 9. Philip Avery is the centre of this crescent of people - typical of the show-and-tell configuration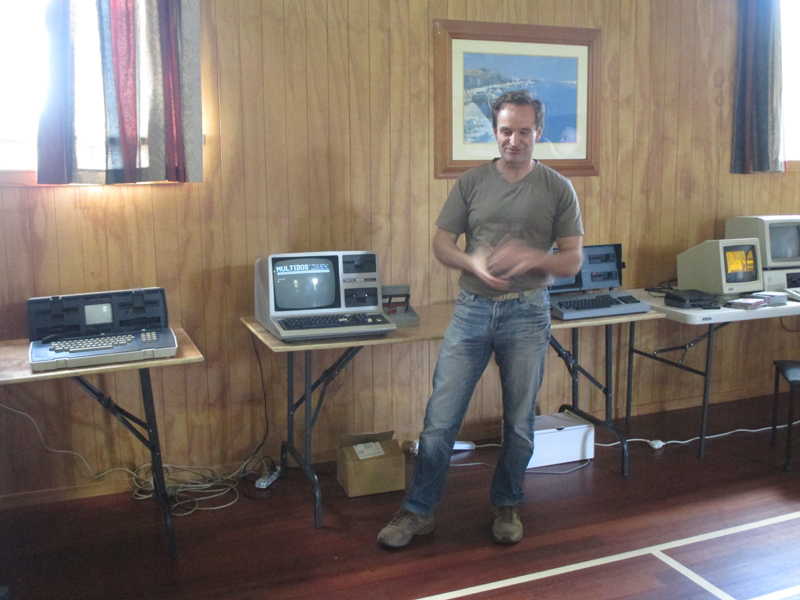 Pic 10. Philip with his TRS-80 Model III (Photo: Matthew Thredgold)
Terry Stewart's Kaypro 4
Next up was my Kaypro 4. I discussed its refinements over the Osborne 1 shown earlier, and earlier Kaypros. In the informal time afterwards, I booted up Space Invaders just to show its graphic capabilities and how even business machines can be fun.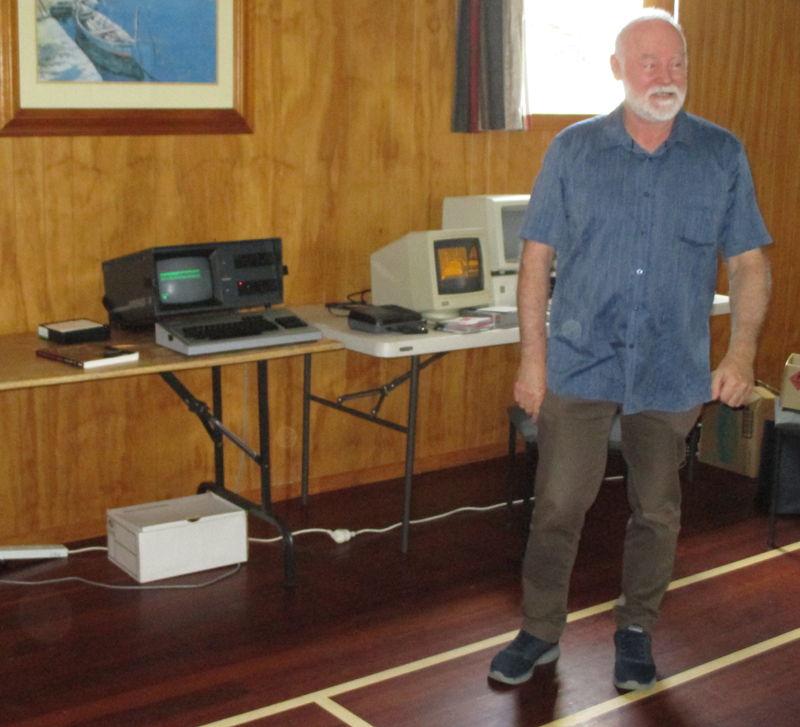 Pic 11. Yours truly (Terry Stewart) describing features of the Kaypro 4 (Photo: Matthew Thredgold)
Multimonitor madness with Andrew Tipton
Andrew had a mint condition IBM 5150 which was unusual in that there were three monitors attached! The machine itself was packed with an MDA card, CGA card, AST SixPackPlus (to get 640KB), and an Ethernet card. Hooked up to the MDA Card was a 5151 monitor and attached to the the CGA card was both an amber multisync monitor (from the RGBI output) and an NTSC TV (from the composite output). It made an impressive display with them all linked up. Andrew also came with a cassette recorder to demonstrate the cassette loading function in this earliest "PC".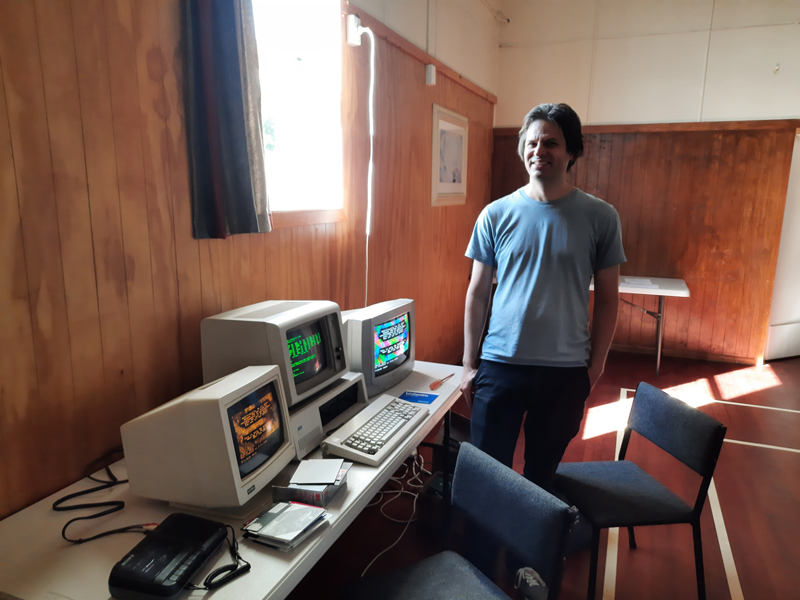 Pic 12. Andrew Tipton and his impressive range of MDC, Multisynch and Composite monitors, all hooked up to his IBM 5150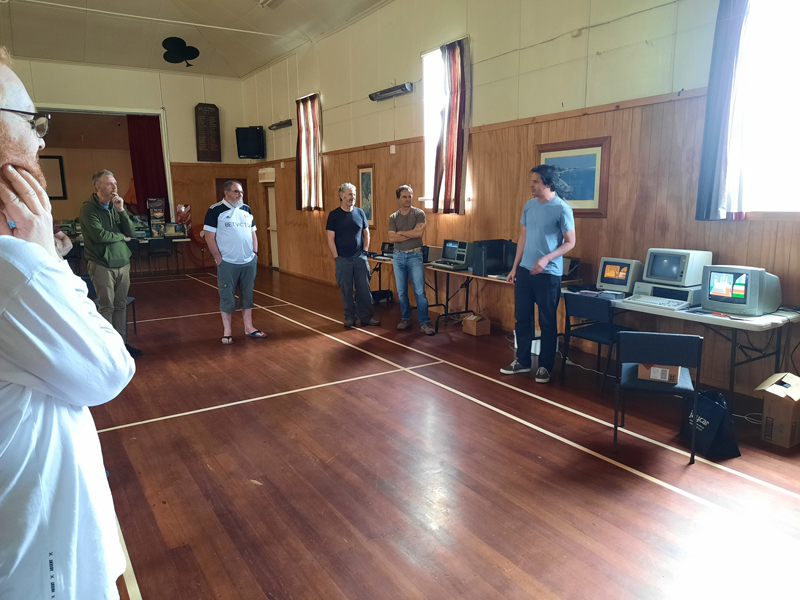 Pic 13. Andrew addressing the crowd
Mark Macrae's cool bar arcade station and Commodore 64
Mark's arcade station was an impressive piece of work. He built it himself from scratch. At the heart was a Raspberry pi 4 running RetroPie, which allowed for a selection of many classic titles. He also showed off his tape-based Commodore 64.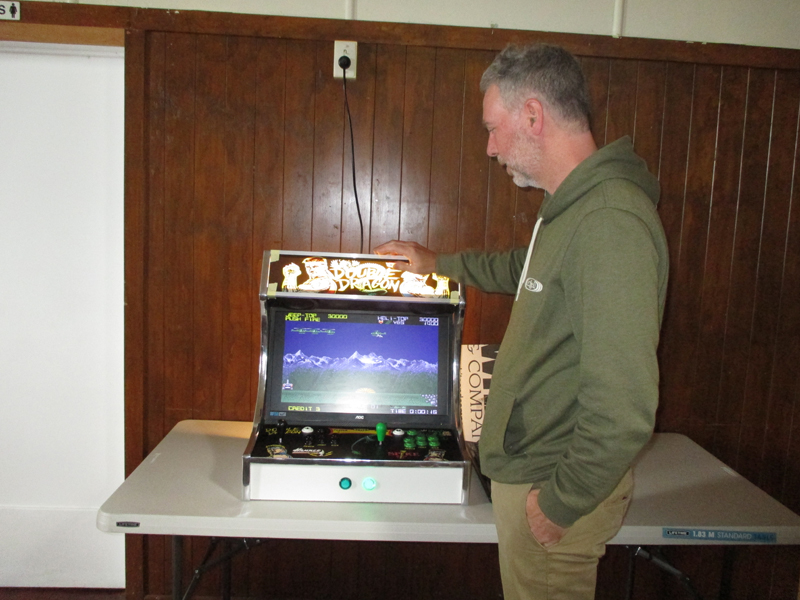 Pic 14. Mark Macrae talks about his home built bar game unit (Photo: Matthew Thredgold)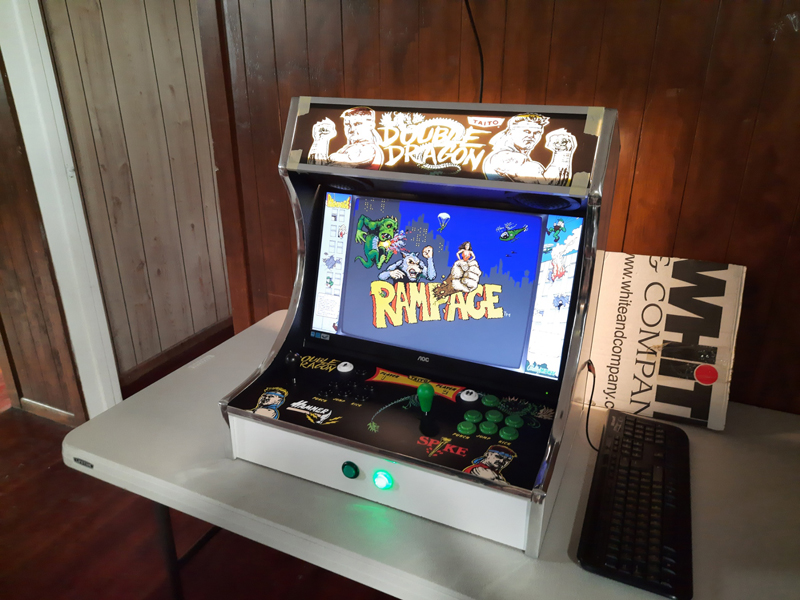 Pic 15. Raspberry-Pi powered home built bar arcade station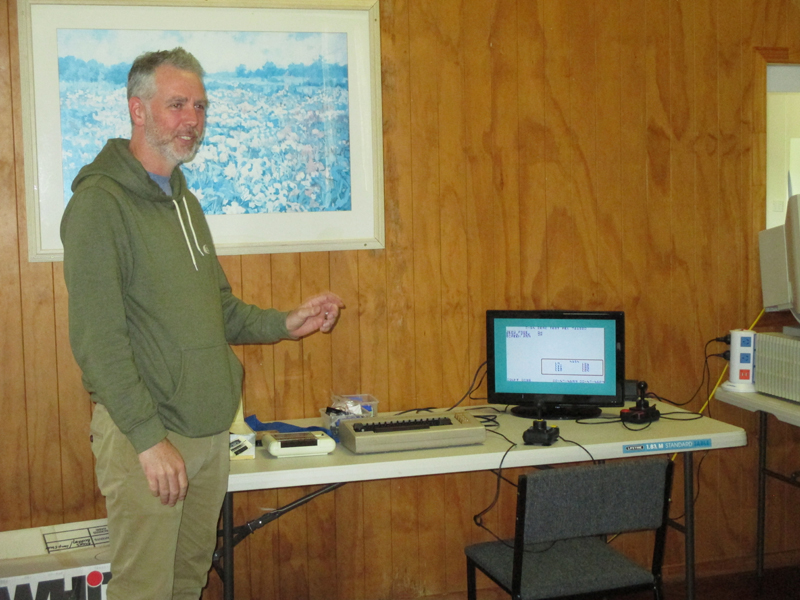 Pic 16. Mark Macrae and his Commodore 64 (Photo: Matthew Thredgold)
Matthew Thredgold's Ultimate MSX experience
Matty is the ultimate MSX fan. On display was his MSX Panasonic CF2700 with multiboot ROM cartridge. This impressive setup gave you almost any MSX experience you might want, with a host of games and options.
We've all heard of floppy disks emulators, which use an SD card or similar. How about a cassette tape emulator though? Matty had one of these too.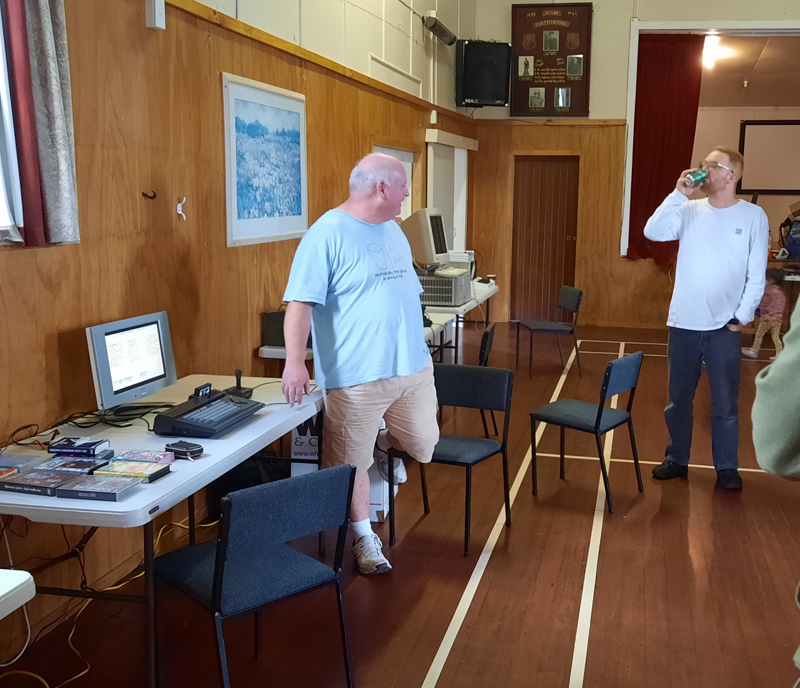 Pic 17. Matthew Thredgold demonstrating the Ultimate MSX experience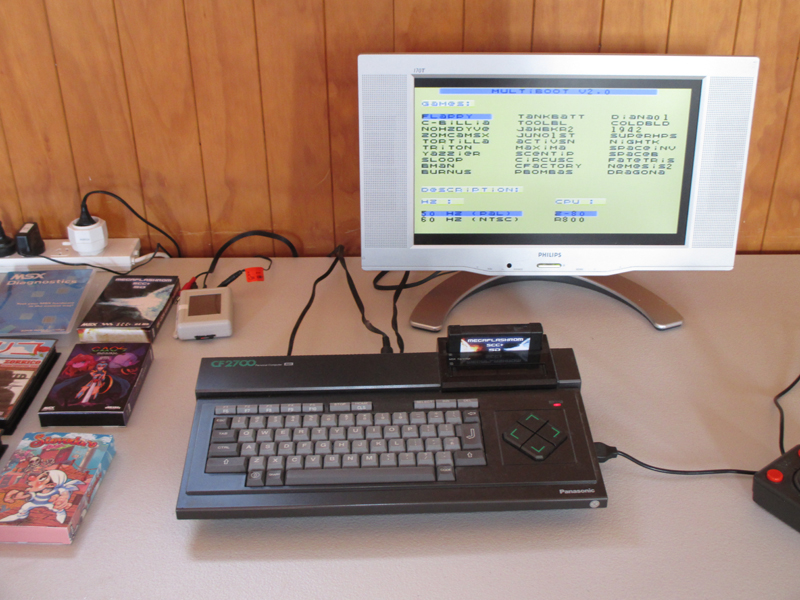 Pic 18. The MSX Panasonic CF2700 with multiboot ROM cartridge. Small box on top left is a cassette emulator (Photo: Matthew Thredgold)
Grant Chivers eclectic mix of machines
The largest beast on display was Grant's SparcSever 1000e. This was a monster and certainly looked "industrial-strength" for hard-core server work.
Next to this was a rare Commodore 8096-SK, an 8000-series business machine which was a direct descendent of the PET line. It was showing 32k of RAM available to Commodore BASIC 4.0 but 96k of RAM was actually onboard and could be accessed by bank switching acrobatics. Also, in Grant's words..."the case is said to be designed by 'Porsche'. Who wants to design cars when you can design a computer!".
The third machine was a gem. A rare New Zealand-made MC6809C-based Amber Pegasus from 1981. I remember these being sold packaged into a suitcase in the day.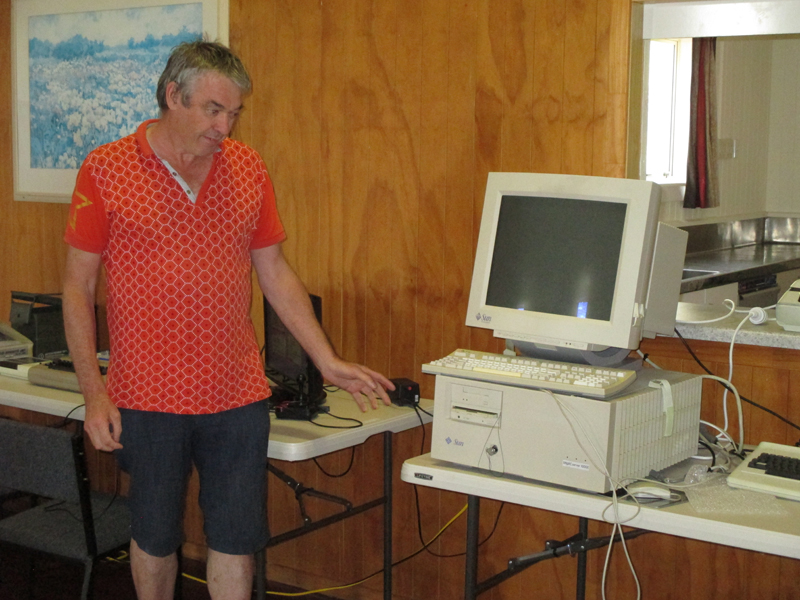 Pic 19. Grant Chilvers and his SparcSever 1000e (Photo: Matthew Thredgold)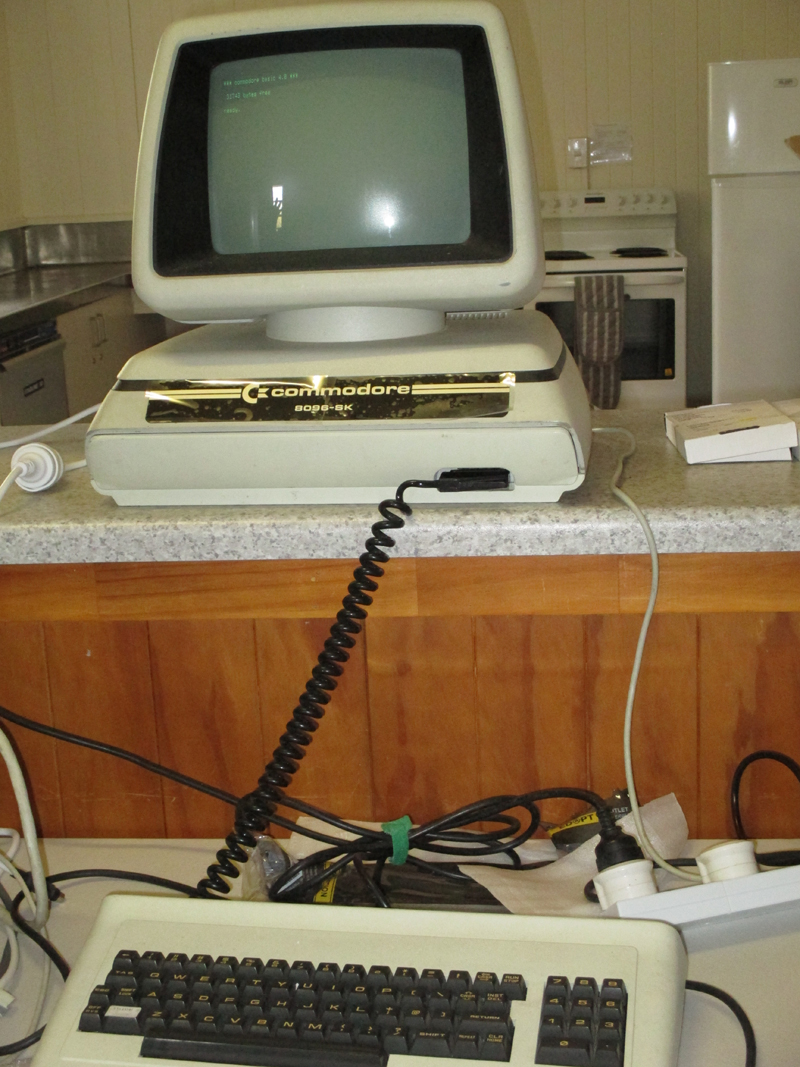 Pic 20. Grant's rare Commodore 8096-SK computer (Photo: Matthew Thredgold)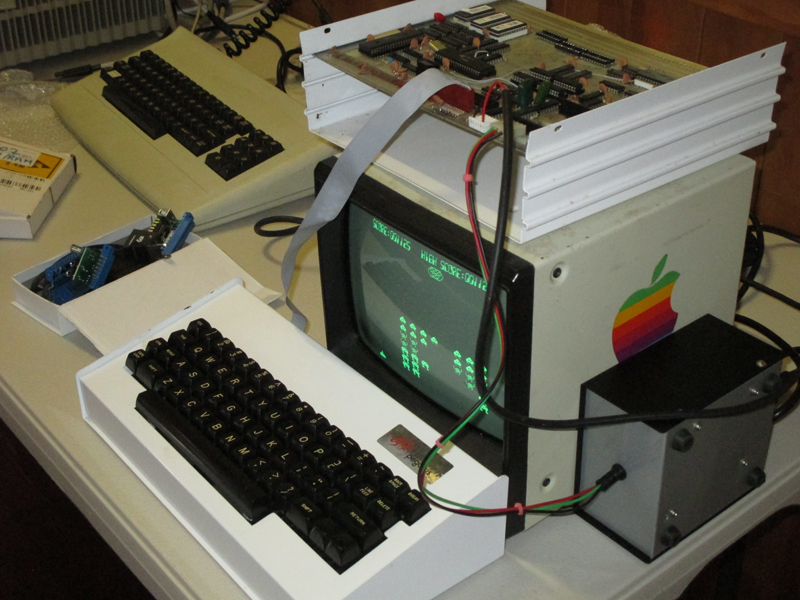 Pic 21. Grant's all-New-Zealand-made Amber Pegasus playing Space Invaders. (Photo: Matthew Thredgold)
Michael Railton's rarities
First up in Michael's display was a 5036a Microprocessor lab trainer from Hewlett-Packard. This unit, set into a suitcase, was normally used for training microprocessor architecture particularly for the 8085 CPU. It was in beautiful condition. Michael demoed the unit by getting it to play a merry tune with flashing lights!
Sitting in the middle of the display, wired up to a modern LCD and SD floppy disk emulator was a MemoTech MTX512. It was a sleek, black serious looking computer. I'd read about them but had never seen one in the flesh before. BASIC is built-in and the computer could access ROM cartridges and the like or (more commonly) run CP/M with floppy disks.
The last machine on the right was an Atari Stacey. Essentially this was a portable version of the Atari ST.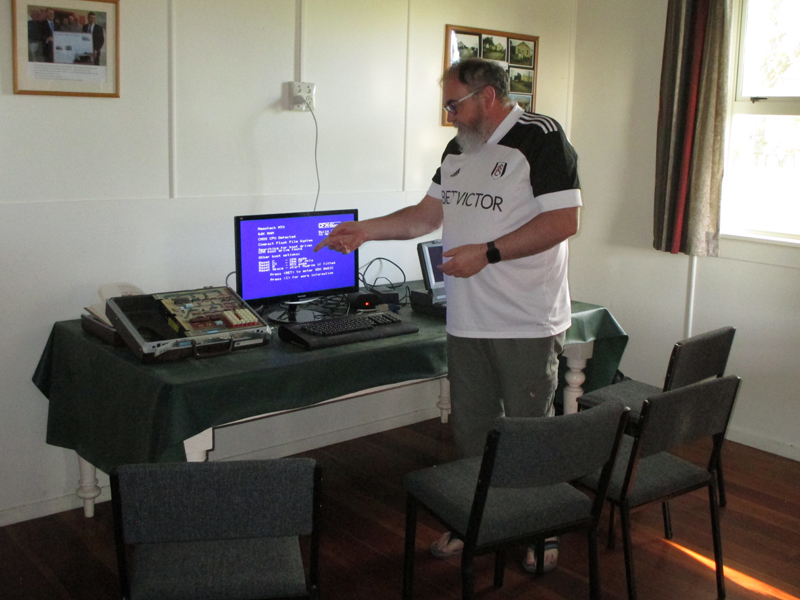 Pic 22. Michael Railton describing his three rarities on display (Photo: Matthew Thredgold)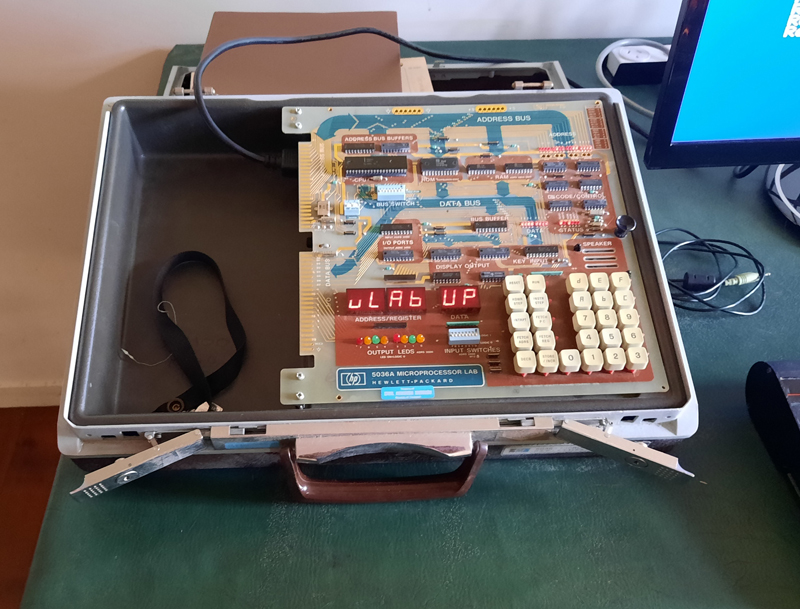 Pic 23. Michael's beautiful HP trainer (in a suitcase)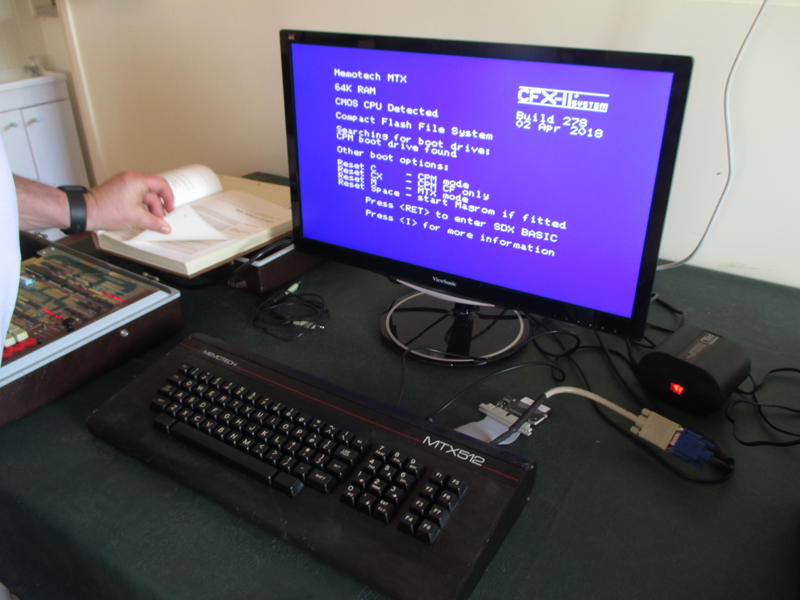 Pic 24. Michael's Z80-based Memotech MTX512 (Photo: Matthew Thredgold)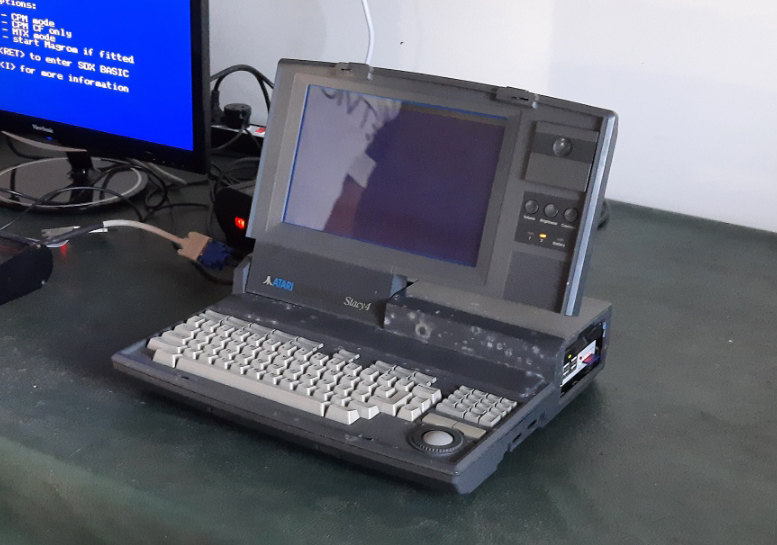 Pic 25. Michael's Atari Stacey
Kirk Jackson's Apple barrel
Kirk had his machines set up on the side of stage. The first of these was a famous (or rather infamous) computer many of us had read about, but few (if any) had ever seen in the flesh, particularly one that was working! An Apple III. It was just how I imagined it to be...more serious and business-looking than the Apple II line, with an impressive green screen.
The second machine was a "naked" Apple IIe, with a clear plastic case. I had read about these modern cases being available. It certainly showed the innards and was great for those who like looking at the tech that powers the computer, rather than this being hidden.
Lastly, on the floor to the right was a very large (non-working) Corvus 5MB hard drive. I don't have a full picture of this but the top can be seen on the lower left of Picture 26. It has a lunchbox on top of it. The drive (not the lunchbox) looked heavy!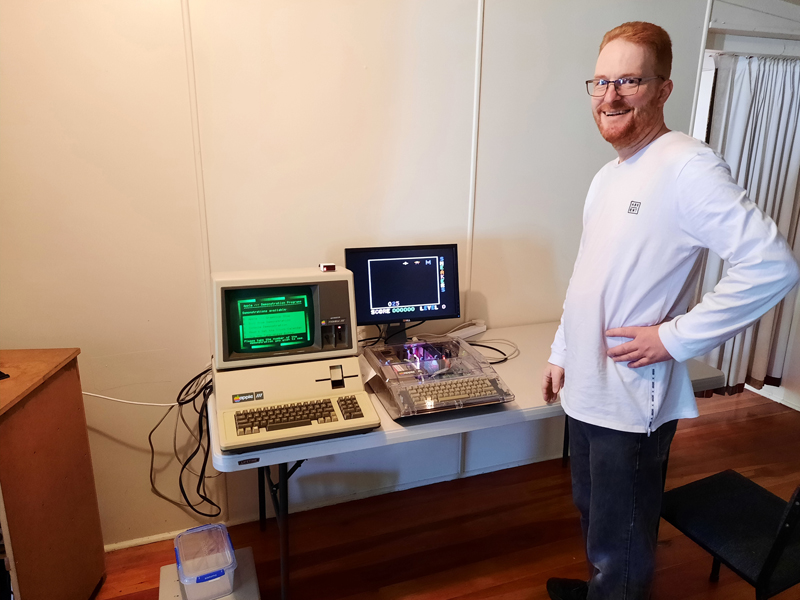 Pic 26. Kirk Jackson Applefest. Apple III and Apple IIe in transparent case.
Going around all the displays as a group was good value. After that was over, people talked conversed or checked out individual displays for more detail. Before we knew it, it was almost 5pm and we were all packing up to leave.
The final picture shows all the attendees apart from the one behind the camera. It was a great afternoon in which many of us had seen machines were had never seen before, and we met people we'd only known from posts.

Pic 27. Rouges gallery of participants. From left: Mark Macrae, Jonathan Frericks, Grant Chilvers, Philip Avery, David Otter, Terry Stewart, Kirk Jackson, Matthew Thredgold, Andrew Tipton, Neville Clark and Michael Railton. The 12th attendee was taking the photo.
Kudos for Matthew Thredgold for organising the event.
Next time, we could probably make a whole day out of it!
Terry Stewart
5th May, 2021