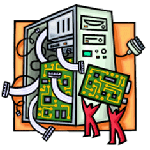 Planned Projects
If you have a bunch of old computers where the aim is to have them all in working order then there is always something to do. Here is a list of planned activities most of which will be reflected in blog postings once done.
Fire all my units up, to make sure they all work and there are no new issues
Add a UVA to my Atari 800
Add double density to one of my DS System 80 expansion units
Configure my Challenger 4P for disk (which involves making a cable (ugh!))
Make a You Tube video on my Poly 1 computer
This list is likely to be trumped by other things as they suddenly present themselves!
Last updated: 5th March, 2018