Hi guys,
The latest model lodged in the rest home for redundant computers is this nice looking, working Amstrad CPC 464. I'm pleased to get it as it plugs a glaring hole in my collection of classic micros.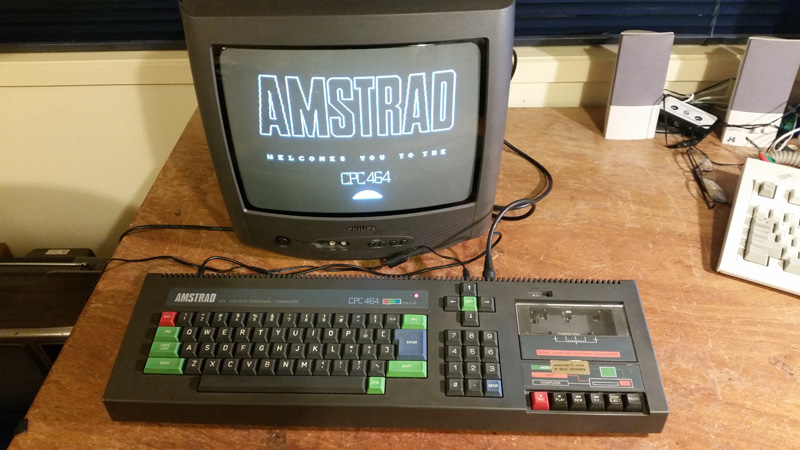 However there is a problem I'd like some advice on.
I've only got the console, not the screen. To give the machine video I bought two devices which I'd hoped would allow me to use it with a TV with composite input, like the one above
The image on the left shows the PSU (normally supplied by the Amstrad monitor) and an RGB to SCART cable, designed specifically for these Amstrads. This cable allows one to plug the computer straight into a TV with a SCART input plug. In European countries these SCART sockets are fitted to almost all TVs. However, in New Zealand, hardly any have them. Hence the device on the right. This is a SCART to composite/S-video converter. I figured this, when plugged into the RGB-->SCART cable, would be the solution as it should output composite video.
Indeed it does...but only black and white. No colour??
I had a look on the web for a solution and it seems this is a common problem. Milage varies with these SCART -- Composite adapters and it's not uncommon to only get a mono image.
So a couple of questions:
(1) Does anyone have any experience with this "Amstrad" problem and could they suggest a solution.
(2) Does anyone have an unwanted Amstrad CPC 646 colour monitor (with cable) I could buy (in case there is no easy solution to (1))
At worst, I could import a monitor in from the UK but given the shipping cost and risk of damage, this would be a last resort!
Thanks!