So a few weeks back, I got a lovely CTM-640 from another member here for-parts-or-repair. I'd been informed the monitor was no longer outputting 5V or starting up and they remembered getting as far as identifying their was a fault in the power delivery side of things. Easy fix I thought - track down the bad component in the power supply, replace, and enjoy. What I didn't realise was how complex these things get when you get inside.
This is the short / simplified version - and doesn't including the week or so of me scratching my head looking blankly at a circuit diagram and poking it with a scope.
To start with, the 5V power supply (after you look up datasheets etc) is all powered off the feedback coil on the flyback - so it gets 0V until the flyback is oscillated.
Going in to the flyback is a 100V DC feed - but being DC and having no path to earth - there is no current flow nor does it induce a current on the flyback until it's pulsed (by switching the coil output to earth).
Q405 pulses the flyback, and following that backwards we see it leads back to the horizontal oscillator output of the 7800 IC. According to the datasheet, Vcc of this part is ~12V. This pin was reading 0V!
Fault found? OK follow that back, and you'll find that Vcc is powered by the feedback coil of the flyback?? So what came first, the chicken or the egg??!?
Turns out the 7800 IC appears to be two chips in one - and the horizontal oscillation section is powered off Pin 15 instead of it's normal VCC. On the circuit we can see Pin 15 is feed by a DC source NOT coming from the flyback for once - it's also filtered by C405 a 47uF capacitor. Using my $5 garbage dump oscilliscope I could see it had power on Pin 15, but nothing was coming out of the horizontal oscillator (needed to operate the flyback).
So I ordered a 7800 IC, which oddly you can find in New Zealand - order online - and get delivered overnight. I desoldered the old IC, and in the process noticed something I had not seen earlier:
C405, the filtering cap for the IC, had lost it's pants. Thankfully I had a spare of that size - so swapped out both parts. Hit the power button and the CPC464 suddenly had a power light, a few dim dots appeared on the screen and their pattern changed when I pressed enter. Epic.
Turned up the sub-brightness on the flyback, which is rather un-nerving if I'm honest (almost 30 year old monitor, where most of the circuitry has not had power for many years, turned on with the lid off) and got this: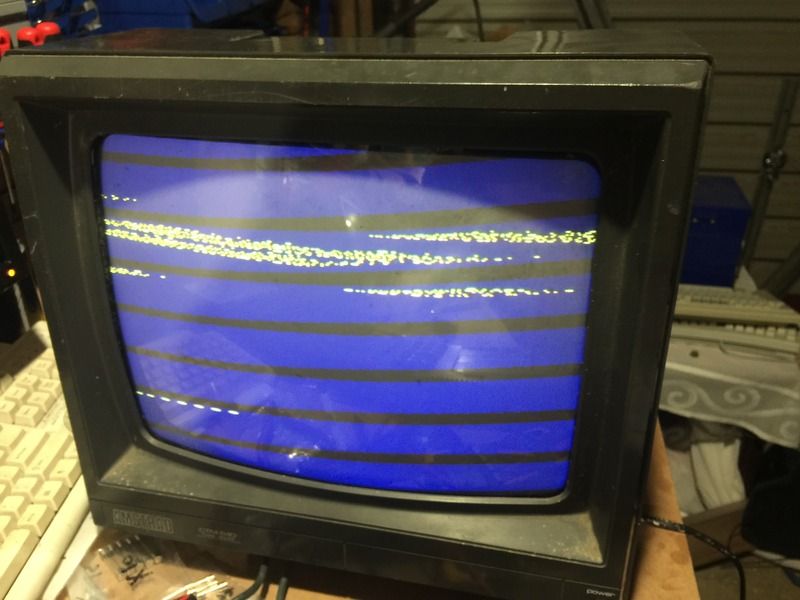 Adjusted some of the hold settings and tada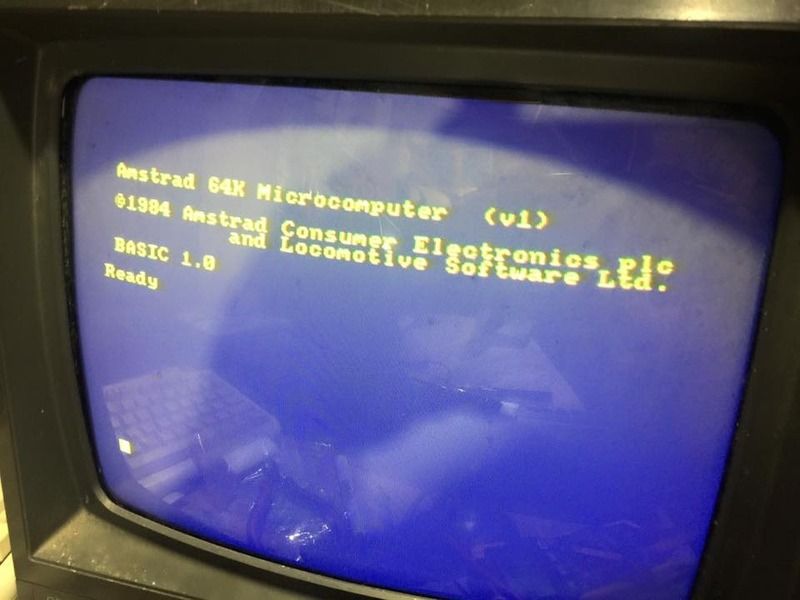 This is the second monitor I've repaired now that was caused by a fault in the horizontal oscillator circuit.
Just thought I'd post up because I find CRT's quite intriguing, and I suspect we'll see more and more of them failing with less and less people available to repair them. In Wellington I've only found one person - and I had to chase them up for several weeks to get any results.