These don't come along often, so I thought it'd be worthy of a thread as I go through and test/repair various bits.
It all started with a trademe pickup, for an almost complete collection of NZ PC World's for $1 - but even on that day I was given two fantastic mid-1980's era enthusiast books and a Zenith Z183 dual 720KB laptop. The Zenith worked fine, in fact the original battery actually still maintains a charge! I unplugged it from the wall and it kept running.
The biggest trick in getting it running was working out the polarity of the power connector - it's reverse with a centre negative. Anything from 12V up will get the system started but 16-18 is ideal for charging the battery properly. I also gave it a cleanout.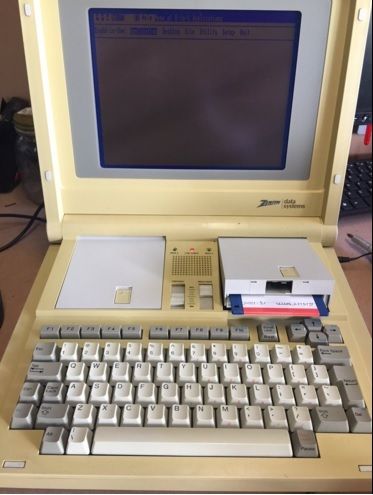 I returned this weekend with more than $1 on me this time, to purchase some more items I had eyed up and ended up going home with a full car.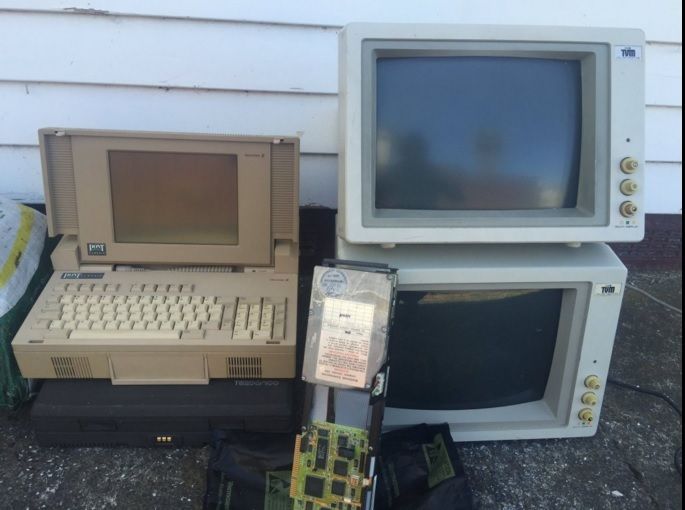 Ericsson Portable 8088 (1985)
As far as I'm aware, this is the only computer they ever made. 360KB floppy, no printer option installed, 512KB, Plasma CGA - after cleaning the disk drive, it works a treat.
Toshiba T5200/100
Had a stuck hard drive, which was removed and gently encouraged to spin (quick tap with the handle of a screwdriver on the side of the drive) - it now READS reliably and actually booted up DOS 5 and in to Windows 3.1 [which had the PC Speaker sound drive enabled - which worked better than I expected!] - however writes are hit and miss, so I'll need to determine if it's cable, oxidization, or a bad drive. Needs a CMOS battery too, but that takes 5 minutes.
I've got spare Conner CP344, CP3000, CP3044 etc, but not sure if I have a CP3104 spare - I may end up fitting another model drive in it and using software to get around the BIOS limitation but hopefully it's just a cable issue.
TVM CGA displays x 2
Proper CGA displays with DE9 connectors and that dark black tube you'd see on monitors like IBM's 5153. It's hard to tell in the photo, but in a normal inside environment it's a very rich black and looks great when used. Both of them run perfectly with no jitter or issues and are in surprisingly good condition.
WD Hard Card
I'm not sure if it's 20 or 30MB but it's in very good cosmetic condition. Owner asked specifically to know how I got on with this part, so I'll try this out soon.
The longer I was there, the more I was able to prevent from going to the recyclers. Some of it was stored in boxes inside, but the bags (4 of them) were outside ready to go to recycling. The biggest bag which you can see a card hanging out of was the most interesting:
Bag 1: power cables etc
Bag 2: network cables etc
Bag 3: only 1/3 full, but contained hard drives, including an ST225 that still boots!
Bag 4 was the interesting one. Inside I found:
Morse 286 8Mhz 1MB motherboard (yes it works! Bad RAM somewhere above 512KB that I need to find though)
Adlib sound board (honestly I've never seen one of these in NZ, and have wanted one for a long time)
2 x XT 1.44MB floppy controllers with ROM (hard to find)
At least 10 8bit Coax network adapters
19 Trident/Oak ISA VGA cards - two of which also support CGA/EGA
ATI VGA Wonder XL - very saught after VGA card for the 286 era
Prima Ega Plus/2 256KB EGA - bit of an enthusiast card
OPTi 486DX2-50 motherboard with CPU
Almost the complete internals of a HP 286-8, Compaq 486SX/33 EISA [including EISA VGA, RAM boards etc], HP from the Pentium era, and a Compaq with Socket 2 [I think it was Compaq]
WD Hard Drive controller from a Compaq 286 (1984)
WD RLL full length 16 bit controller
WD MFM full length 16 bit controller
Not to mention the piles of IO cards and various combinations, modems, sound cards (Creative, ESS, Yamaha OPL) network cards, and PCI cards (S3 Stealth 64 etc).
Others: At least 10-15 boxes of DSDD 5.25" disks sealed, 720KB x 1 box sealed, a few DSHD boxes sealed. Power adapters. Around 20 CPU's - mostly 486, some Pentium, one 6x86. Memory modules, enough to half fill a motherboard sized static bag.
For a PC collector, it's like Christmas morning when you're 8.
P.S. he also has a a ZX81 in poly (no outer box) with an aftermarket keyboard attached, I believe he's intending to list it on trademe at some point, I knew I wasn't going to offer a fair value for it because it's not what I collect, but it is there.