Second New Zealand Lower North Island Vintage Computer Meet (24th Oct, 2021)
Introduction
For a half-day in May 2021, a small group of vintage and retro-computer enthusiasts in the lower North Island region of New Zealand got together for a inaugural show-and-tell meeting. This was very successful, so much so that a longer, second follow-up event was planned for later that year.
This article reports on that meeting.
Organisation and format
This meeting was organised by Dave Otter from Wellington, and took place on 24th October. It was promoted as an event within our New Zealand Vintage Computing Facebook group.
The venue was the Raumati South Hall (Picture 1). This location made it easy for those from Wellington (to the South) and the Horowhenua/Manawatu/Whanganui regions (to the North) to attend.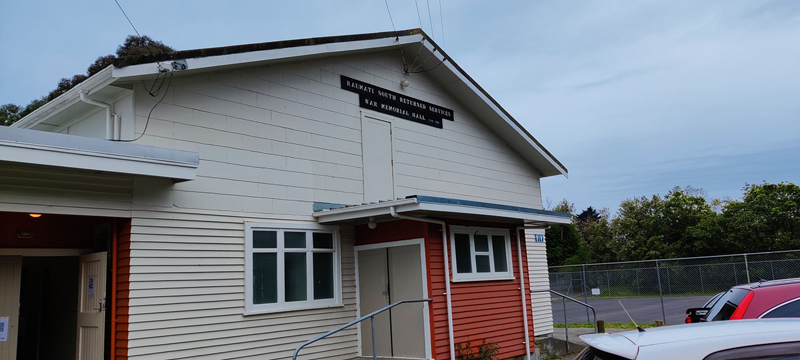 Pic 1. The Venue: Raumati South Returned Services War Memorial Hall (Photo by Alistair Ross)
Dave's organisation was superb. Information sheets were available well before-hand, tea and coffee was available, as were name tags. A good supply of tables and extension cords were in evidence and even freebee small IC-pin straighteners. Tables were also available for items for sale and giveaways. Covid-19 safety requirements were met with scan-in codes, mask wearing and social distancing where possible. A small fee covered the cost of hall hire and consumables.
The meeting was available for set-up at 9am. At around 9.30 or so the formal proceedings started, with Dave giving us a rundown on how things would work (Picture 2).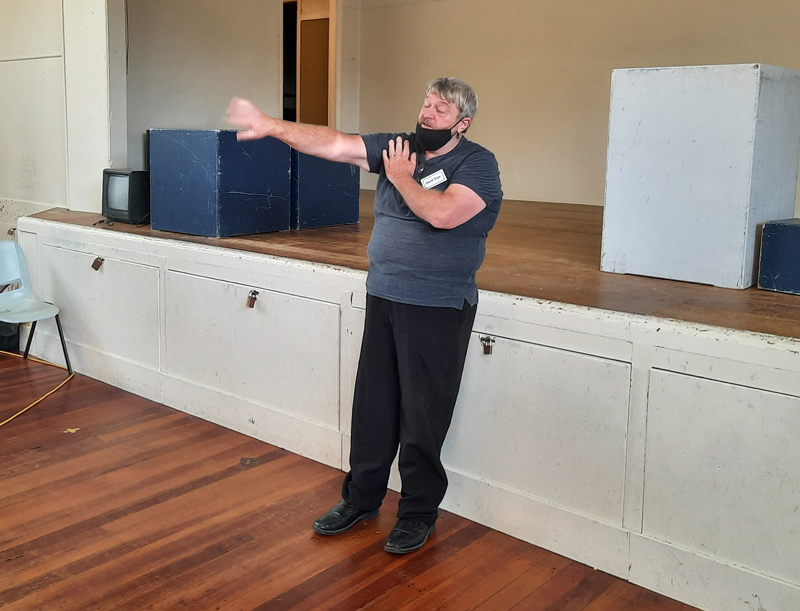 Pic 2. Dave Otter setting the scene for the day
There were two parts to the gathering. The first part was a "show-and tell" where those who brought along something could give a brief overview for 10 minutes or so to the group as a whole. Presenters removed masks so they could be heard when talking, and listeners stood back some distance. People could then eat lunch and spend the rest of the day visiting the exhibits, chatting to the owners and generally catching up with one another.
Machines on display
There were a total of 16 exhibitors with an array of weird and wonderful machines. Here are the pictures, which are largely self-explantory...
Micheal Railton's Memotech and Orics
At first Micheal couldn't get the Orics working due to a PSU issue, but that problem was soon addressed. I'd never seen an Oric in the flesh before so this was quite a treat!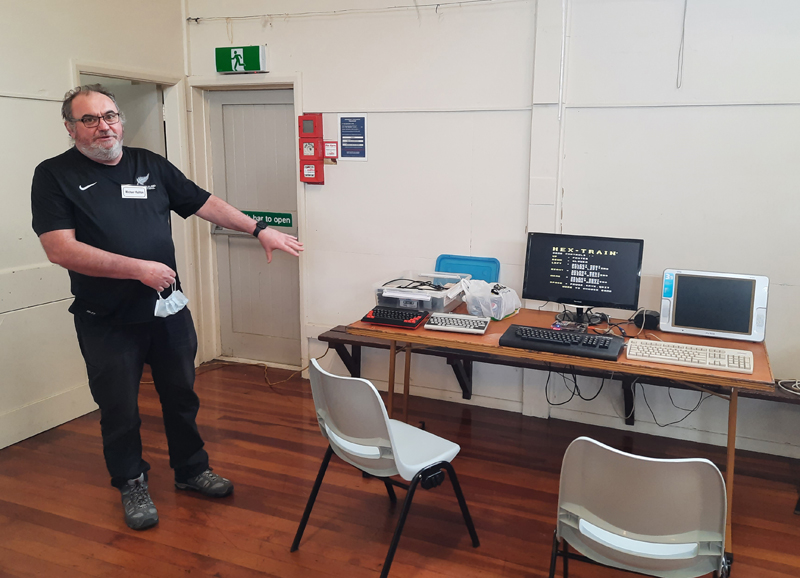 Pic 3. Micheal's gear on display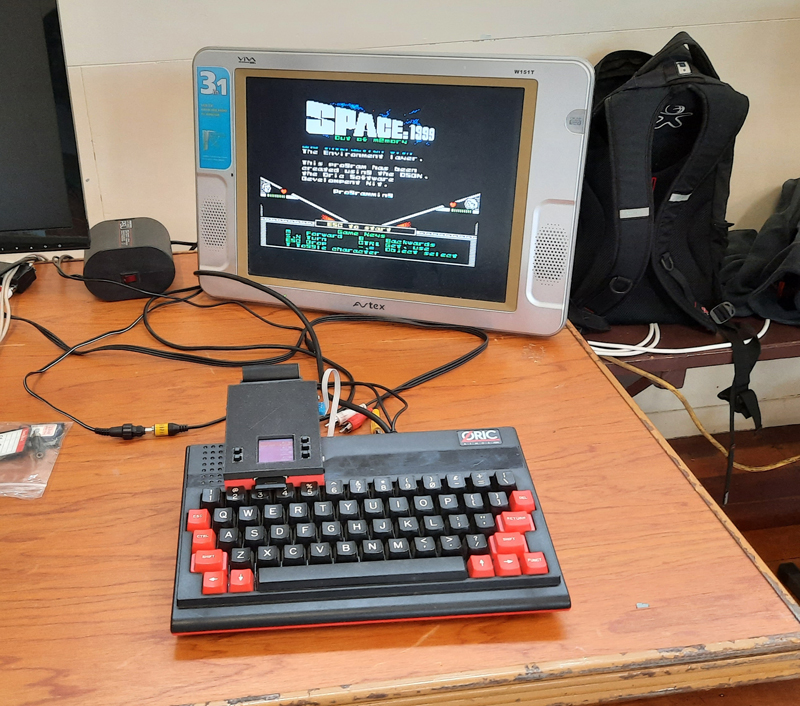 Pic 4. The Oric Atmos (Photo by Alistair Ross)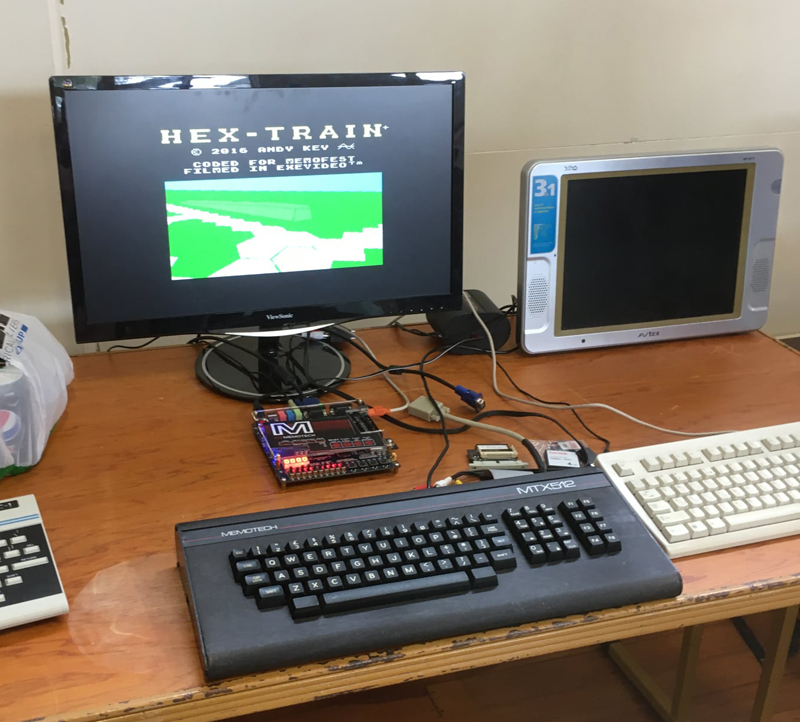 Pic 5. Z80-based Memotech. A serious looking computer in its black livery (Photo by Duncan Anderson)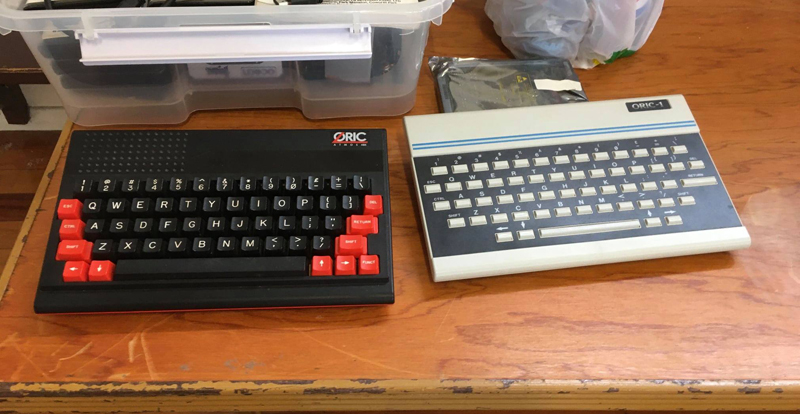 Pic 6. Two generations of Oric. The first is on the right (Photo by Duncan Anderson)
Terry Stewart's Lisa 2/10
There was a lot of interest in the Lisa. This one has a solid state X/Profile in place of the widget HD that would normally be there. The operating system was very advanced for a 1983 machine. Also servicing is a breeze, a concept Apple moved right away from from the Macintosh onwards. I showed how easy it was to work on by opening up the machine a number of times during the informal section of the meeting.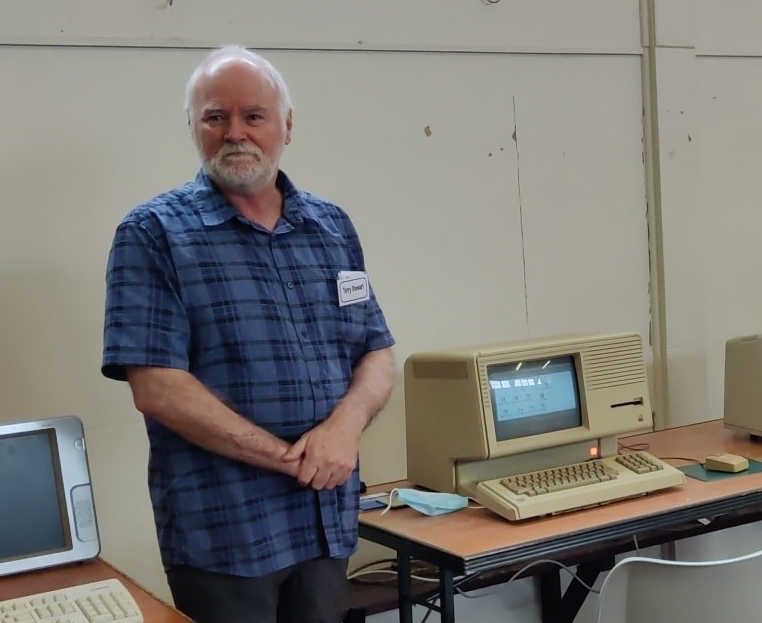 Pic 7. Lisa and I (Photo by Alistair Ross)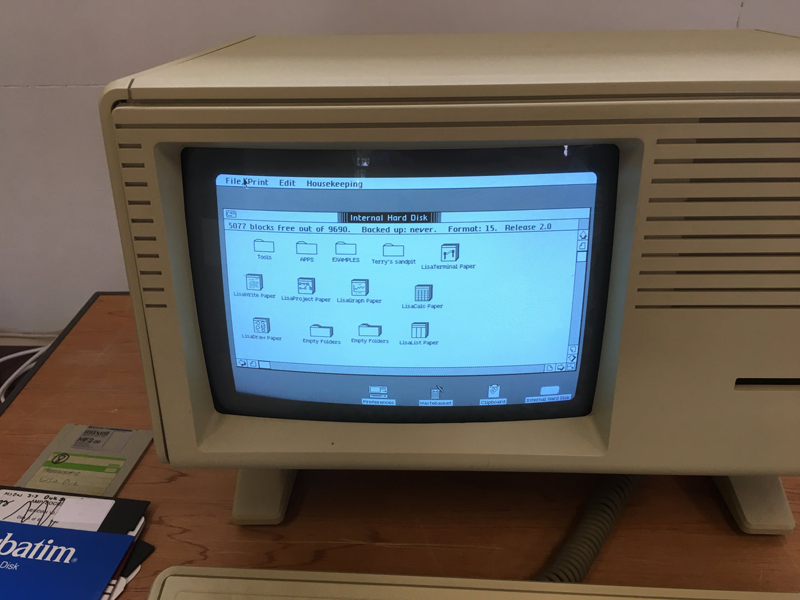 Pic 8. The Lisa Office Suite (Photo by Duncan Anderson)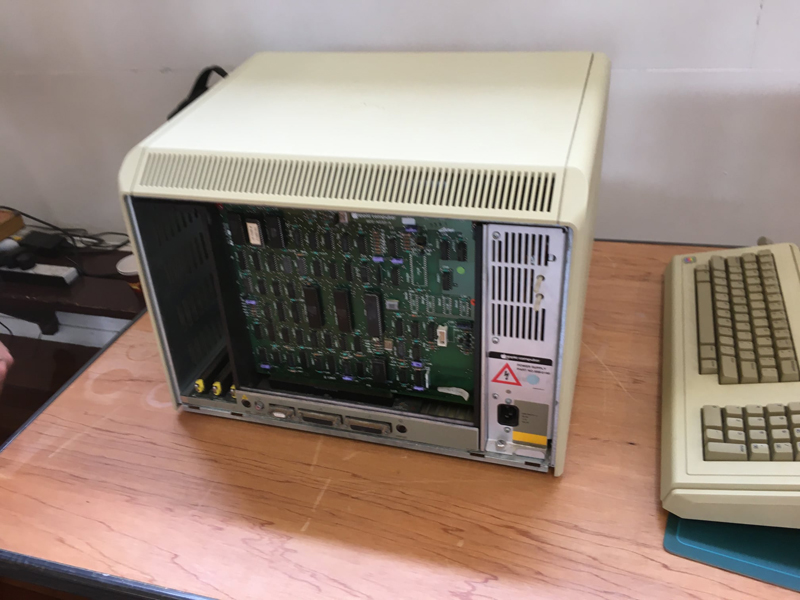 Pic 9. A turn of two hand-screws to remove the back cover is all it takes to expose the innards (Photo by Duncan Anderson)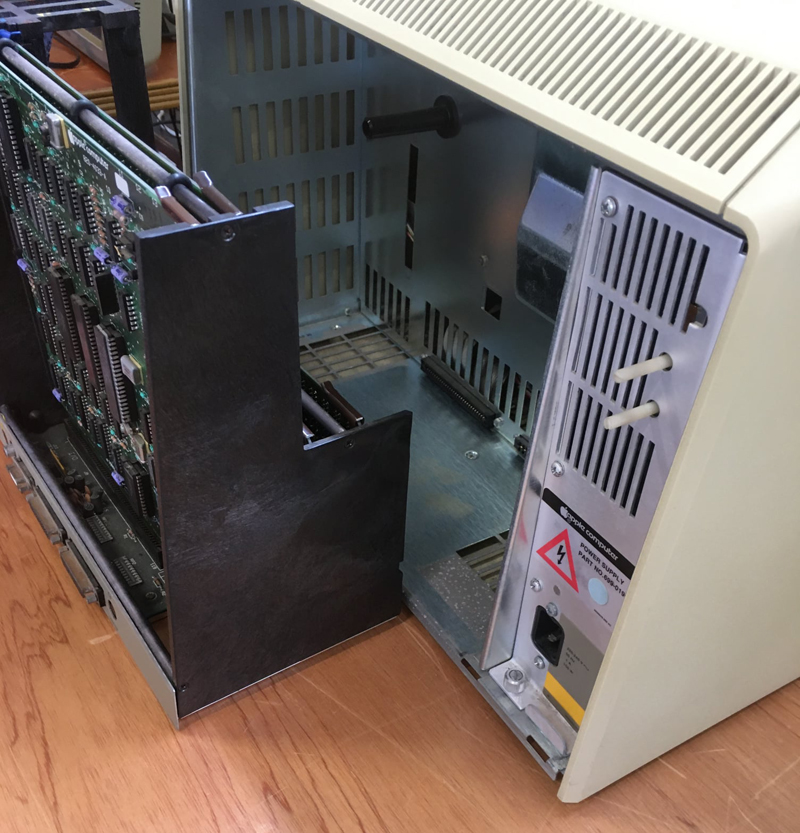 Pic 10. ...and the cage just slides out (Photo by Duncan Anderson)
Philip Avery's TRS-80 Model 4
Philip owns a few micros but has a particular love for several of the TRS-80 computer models. On display this day was a Model 4. I have a Model 4 myself and I love it. It has that all-in-one form-factor, 80 or 64 columns screen and cool black and white livery. Another nice thing about the Model 4 is that plastic is not prone to yellowing, unlike many other machines of that era.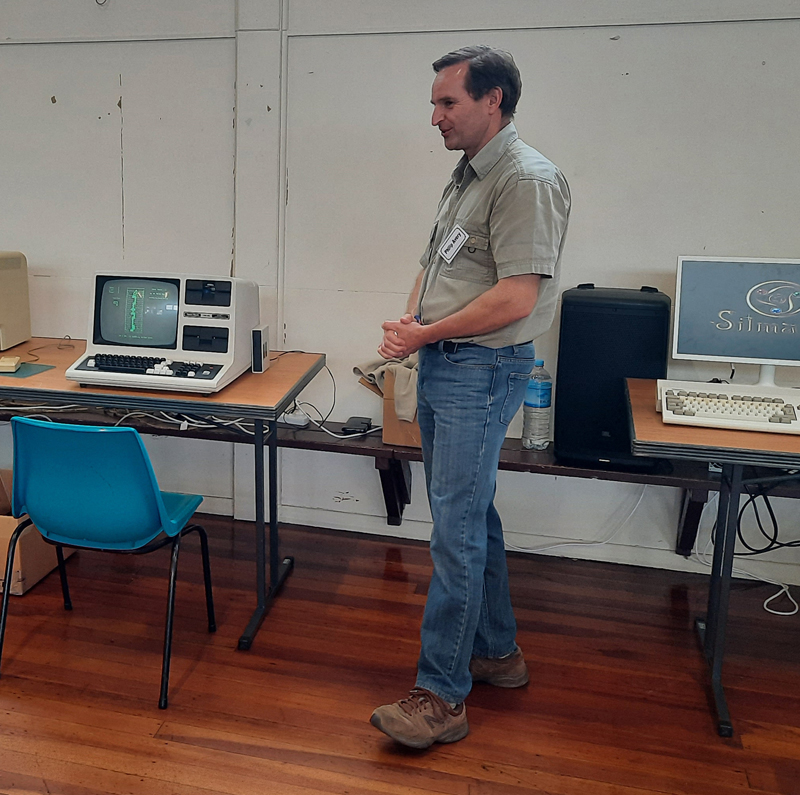 Pic 11. Philip gives the audience a rundown on the Model 4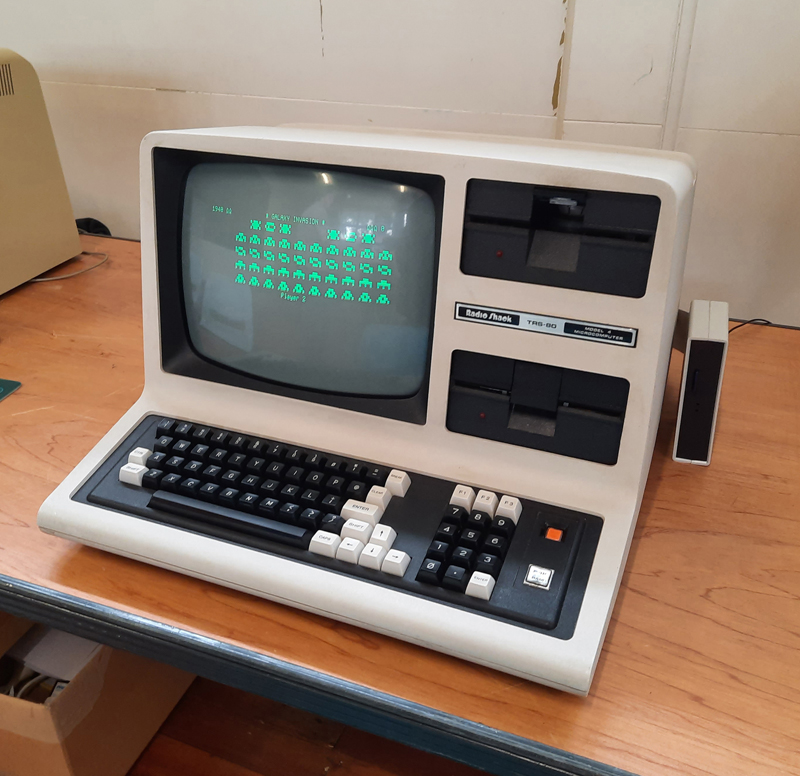 Pic 12. TRS-80 Model 4 showing a FreHD SD card Hard Drive solution on the right
Reuben Trugly's Amiga play station
Reuben demonstrated his Amiga 1200 with a 68030 @ 50MHz accelerator, 128MB Ram and Indivision AGA MK2. The machine was running Workbench 3.1 with WHD Load installed on an SD card. Of note was a large arcade-style interface he had wired up which gave the ultimate gaming experience. This was the Battle Station II which was able to be used with a number of consoles at the time.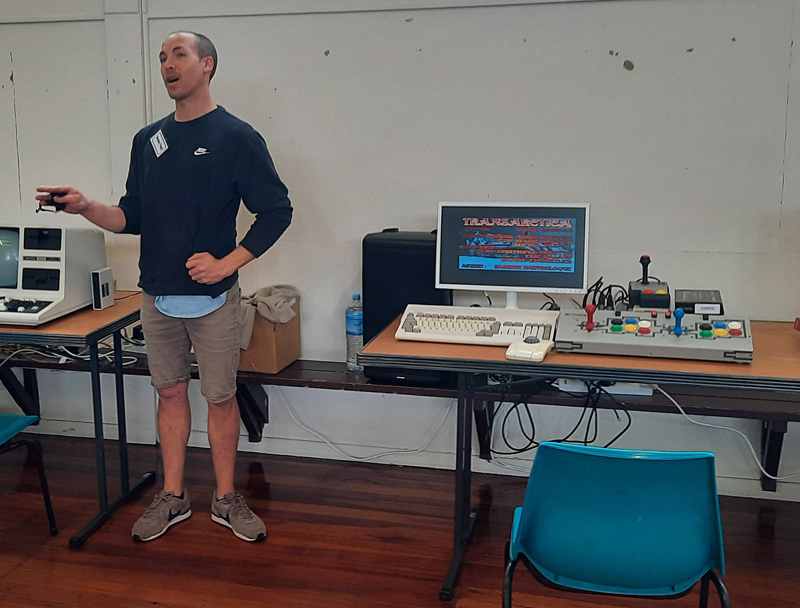 Pic 13. Reuben talks Amiga
Jonathan Chote's IBM JX
The IBM JX is a derivative of the IBM Junior. The JX was another machine I had read about but never seen in the flesh. These appeared in NZ, but were mostly marketed in Japan. Apparently they weren't very popular even in that country. Jono related an anecdote where a large firm offered their employees either a commemorative cup or an IBM-JX as a reward for a successful year. Most choose the cup!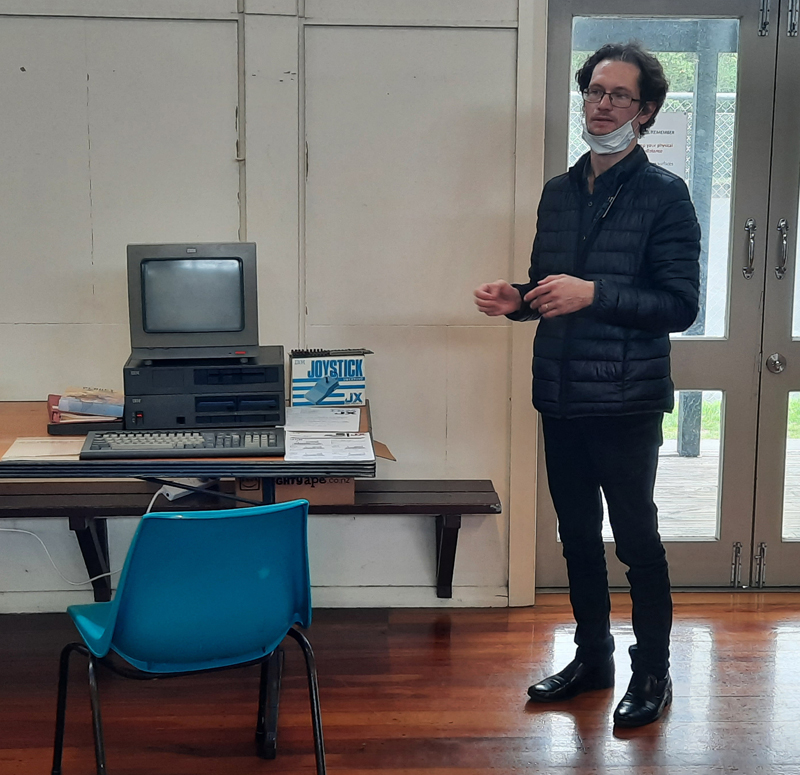 \
Pic 14. Jonathan explaining the weirdness of the IBM-JX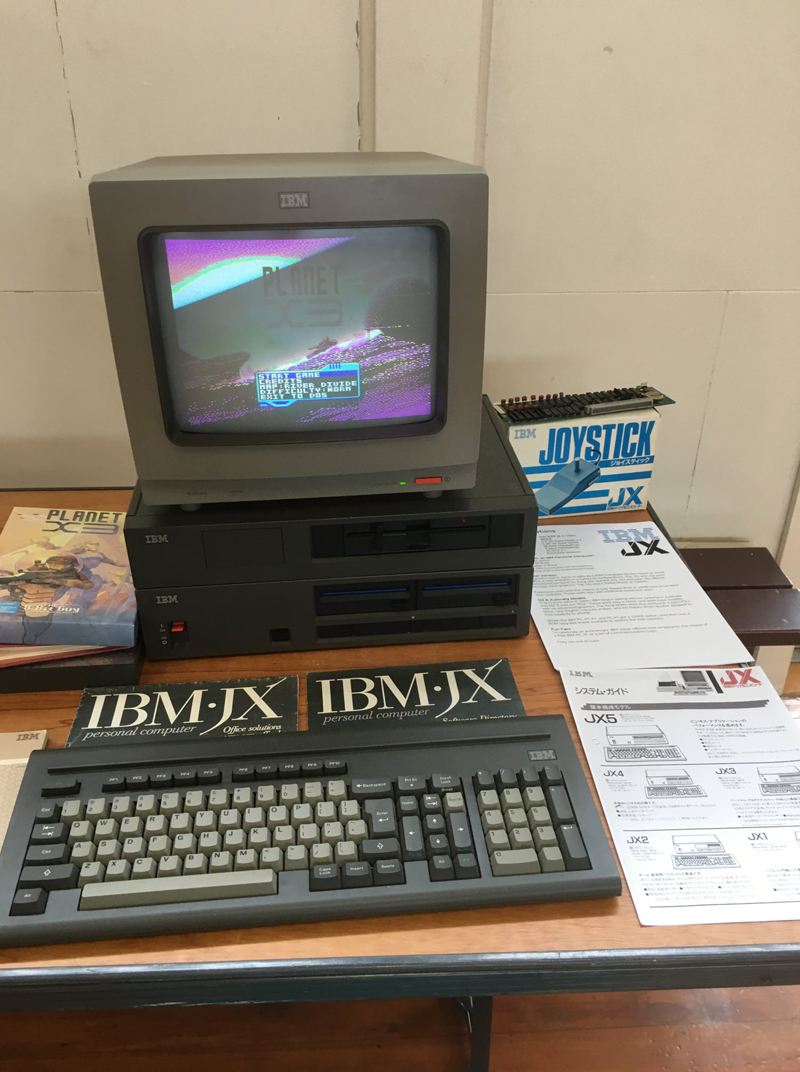 Pic 15. IBM JX with expansion unit (Photo by Duncan Anderson)
Grant Chivers's Pet collection
Everyone needs a pet, right. Grant has (at least) three. He tells me they need varying levels of care. I can relate. My PET needs much TLC.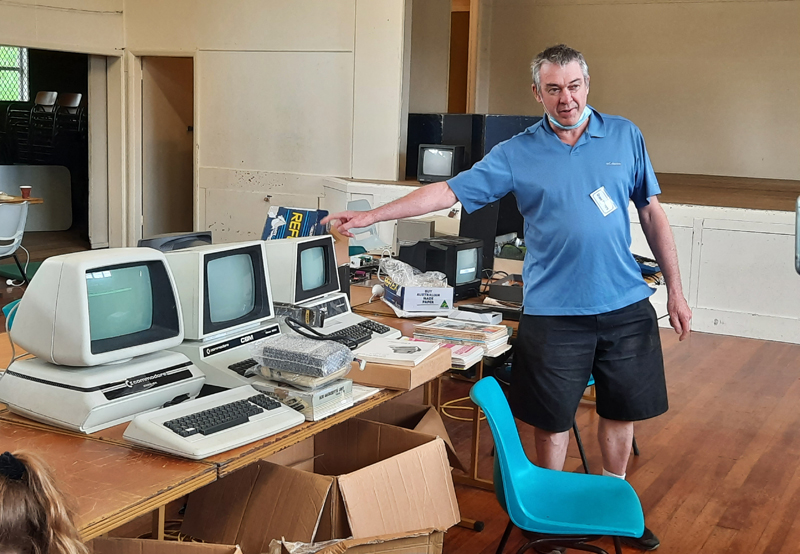 Pic 16. Grant pointing out the features of his Commodore PETs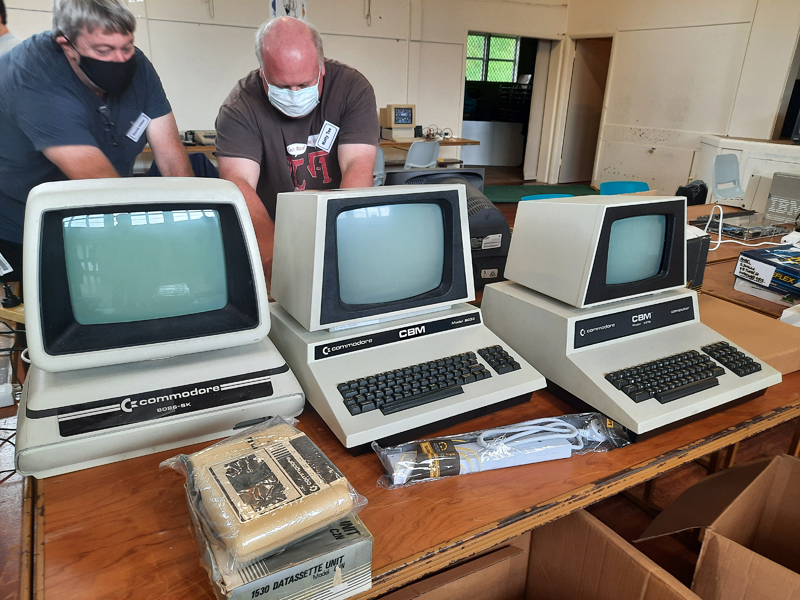 Pic 17. Three species of PET
Alastair Chivers's Motorola collection
Alastair showed off a collection of Motorola computers from the late 1970s. Now that's vintage! He explains that one is a SWTPC 6809, the 1st 8 bit computer to have 16bit architecture and so maximum memory of 2mb. Also, possibly the first computer capable of acting as a RS232 network server to 14 terminals along with twin disk drive and printer. An identical one was used to operate the Kinleith pulp and paper plant here in NZ. The MSI6800 is a similar machine.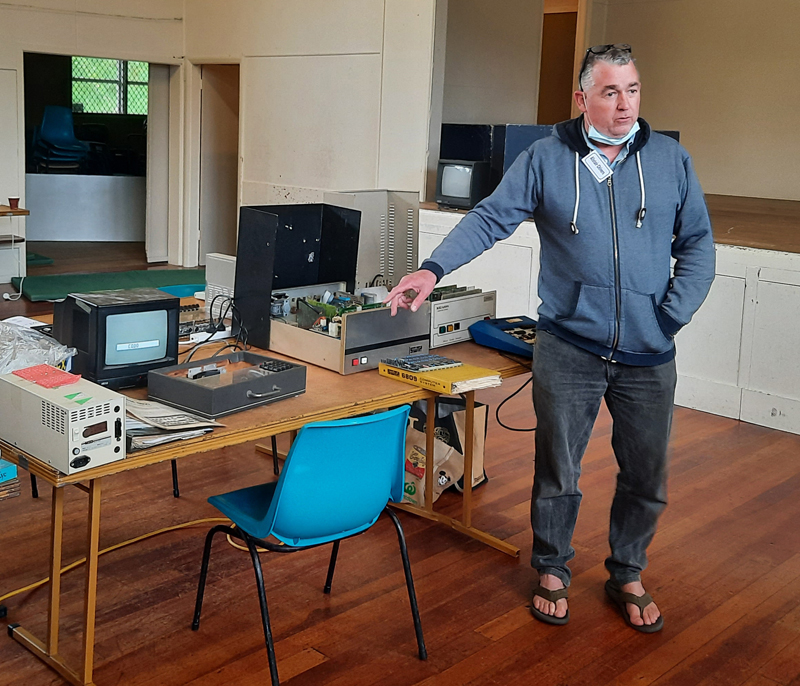 Pic 18. Alastair covers his range of Motorola products. The one in front of the chair is a Dream6800 (Electronics Aust. Kitset 1979)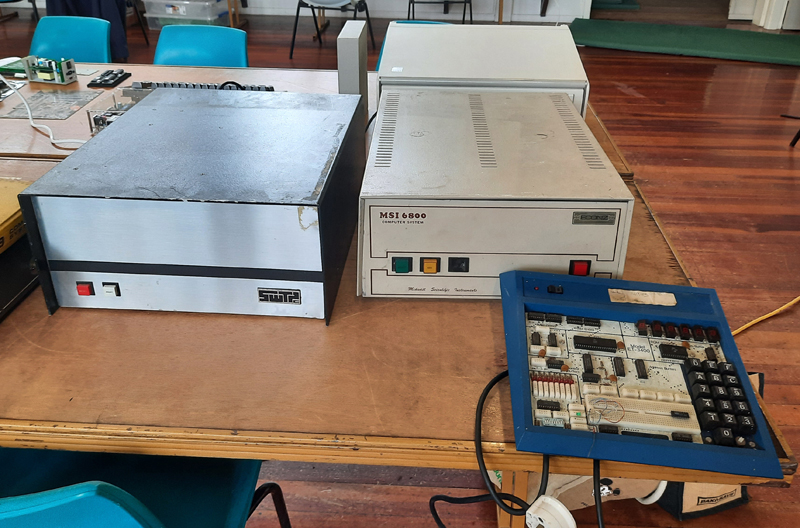 Pic 19. SWTPC 6809. MSI 6800 and a 6800 trainer
Jacob Dorne's IBM luggable and project samples
Jacob is a legend in NZ vintage computer circles for his modern homebrew solutions, as replacement items for ailing old hardware. Along with some of these projects, on display was a fully-stacked (internally) IBM Portable (i.e. luggable) with a hi-res graphics and 286 Accelerator (AST Hotshot) cards.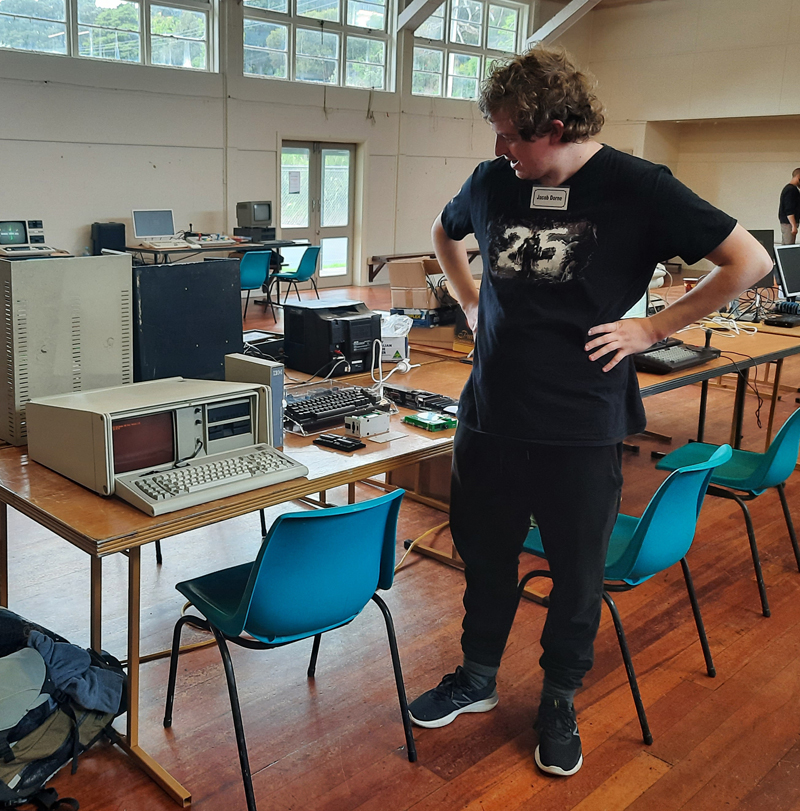 Pic 20. Jacob lists the various features of the IBM Portable PC Computer 5155 model 68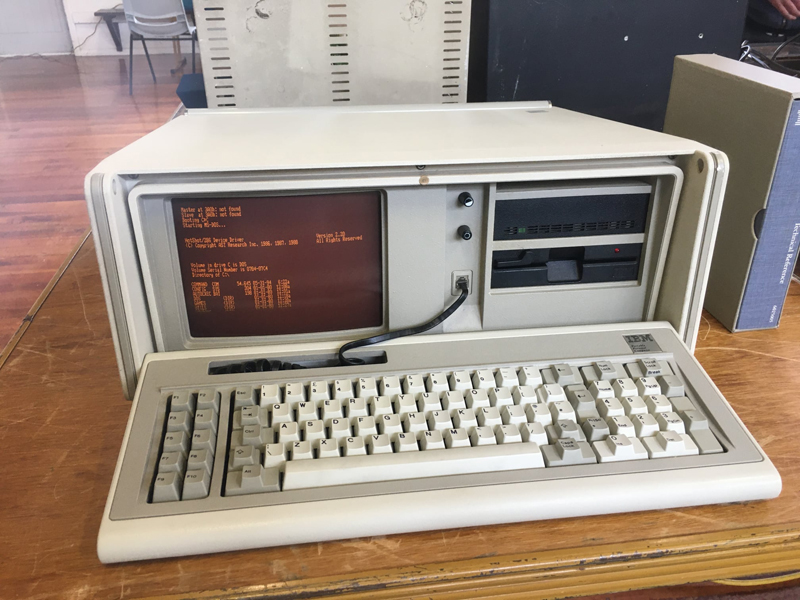 Pic 21. IBM Portable PC Computer 5155 model 68 with hard drive fitted (Photo by Duncan Anderson)
The Brick64 seen below the transparent C-64 in the following photo is likely to be sold as DIY kit and open sourced. Jacob also has MOS CPU Replacements (6510/8500, 7501/8501, 8502, 6510T) which will be open source and sold on his web store. He also exhibited a IBM XT modern replacement, the NuXT, of which a corner can be seen in Pic 21.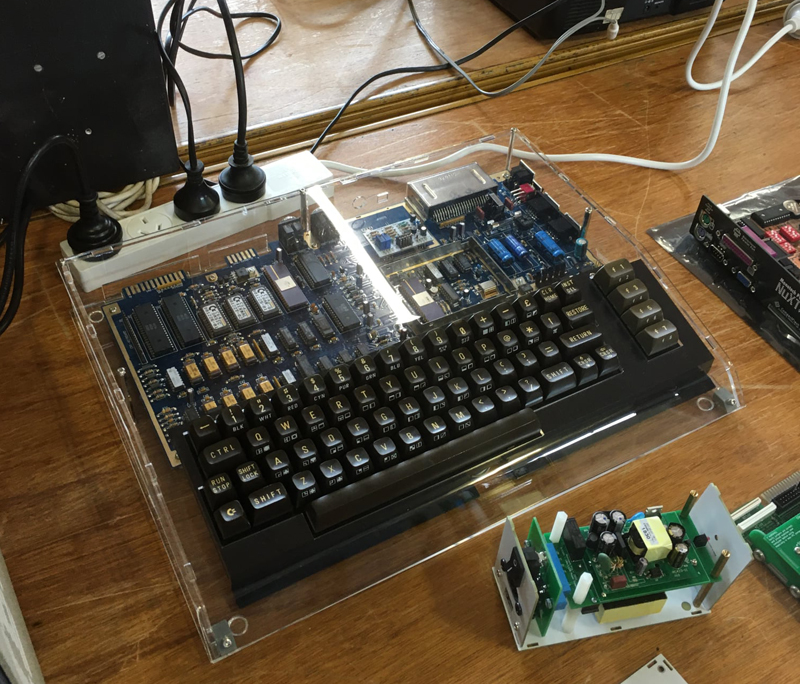 Pic 21. "Transparent" C64 along with Brick64, a C64 PSU replacement (Photo by Duncan Anderson)
Matty Thredgold (Matty Tee)'s MSX system and game
Matty is an enthusiastic MSX system user and gamer. So much so, that he's written an MSX game for a coming competition. The game was on display and many of us had a play, directing our avatar through a maze, shooting things, avoiding the mines and getting blown up by our own explosions. Fun! All the best for the competition Matty.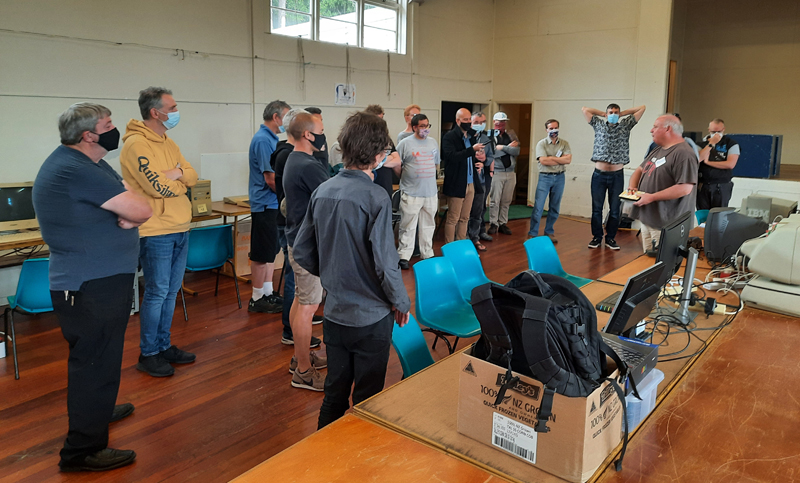 Pic 22. Matty's turn to demo, but this photo also shows the participants in a typical "show-and-tell" configuration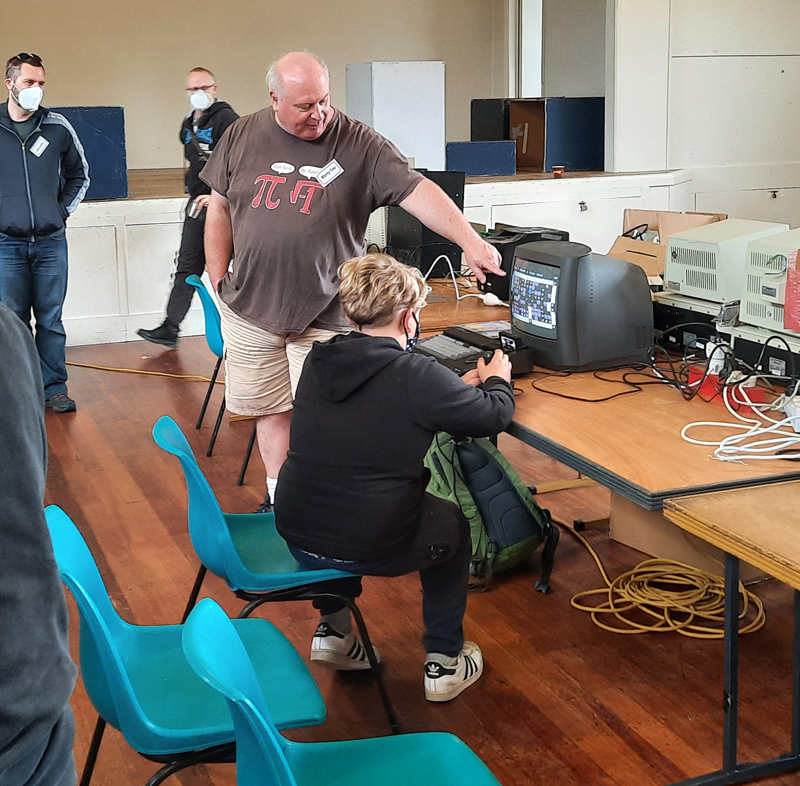 Pic 22. Alex Harrison tries Matty's Munchman game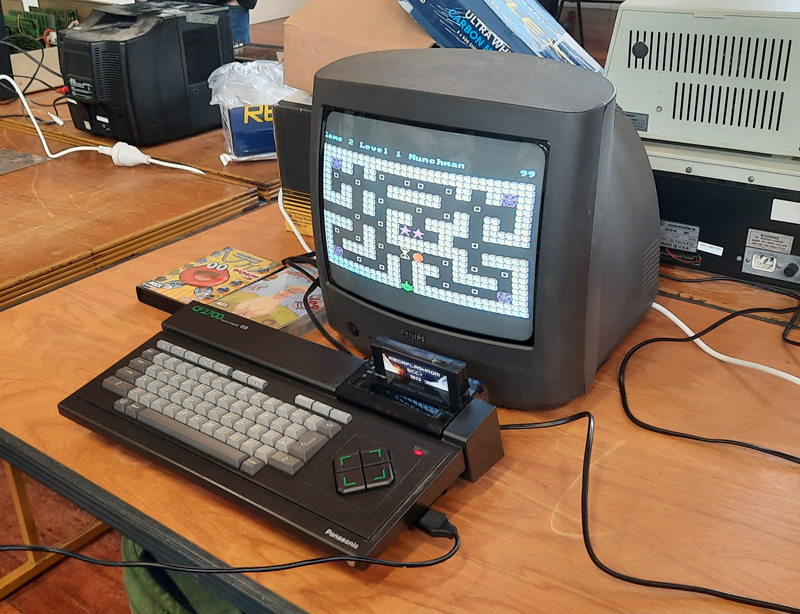 Pic 23. Matty's game running on his MSX dream machine, the Panasonic CF2700.
Simon Swain's ZX Spectrum Next and CP/M Kit
One thing Simon likes about the recent ZX Spectrum Next is that you can use it and not worry about old capacitors failing etc. You can simply enjoy the Spectrum experience.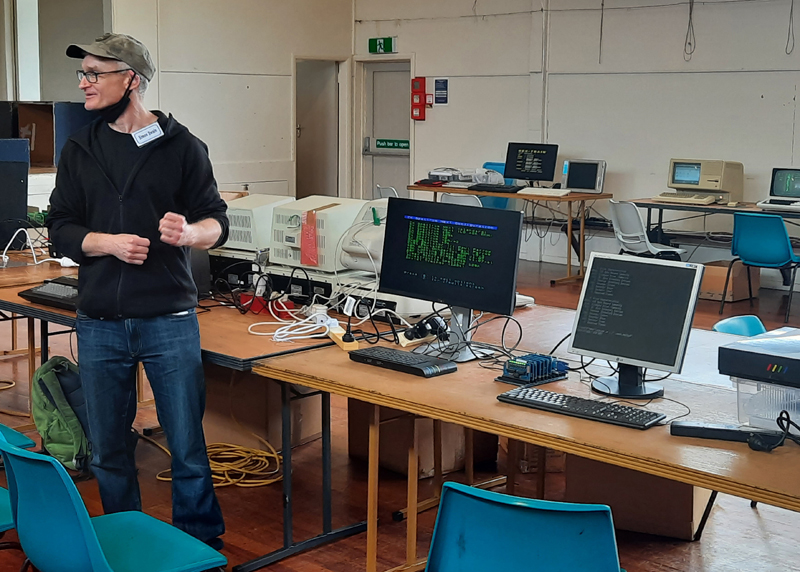 Pic 24. Simon showing off his two exhibits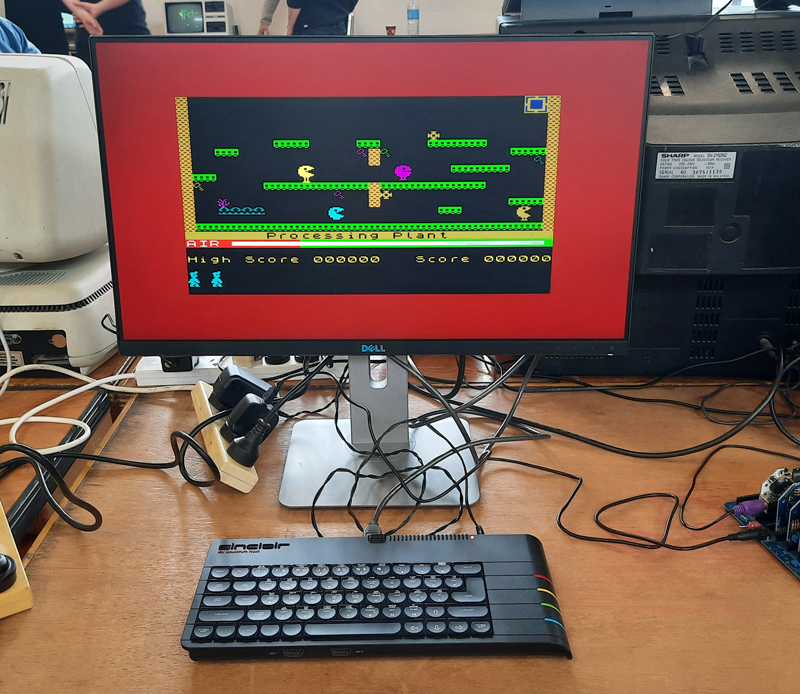 Pic 25. The Sinclair ZX-Spectrum Next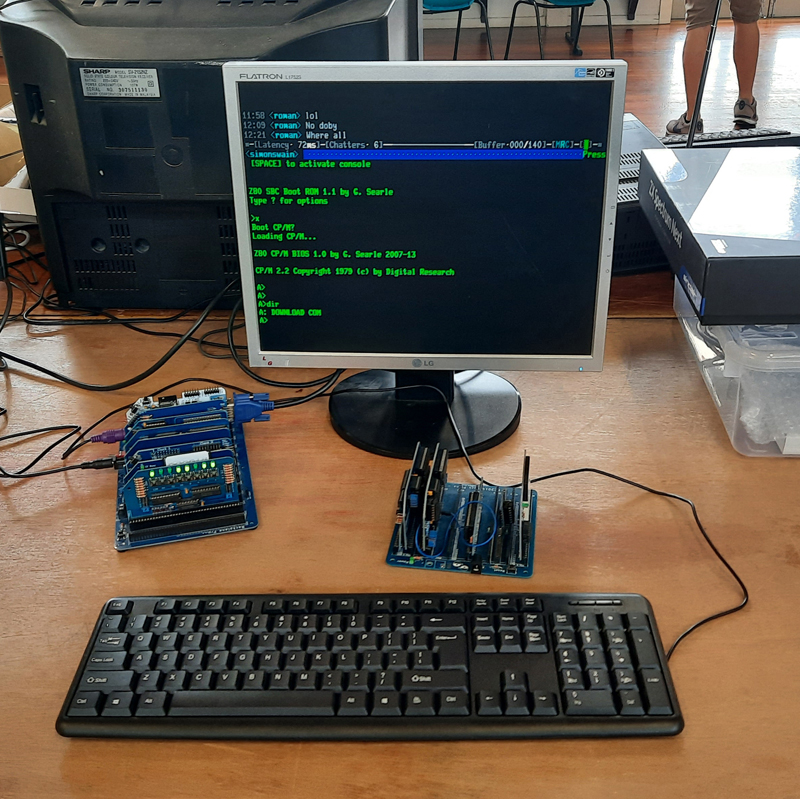 Pic 26. A modern RC2014 CP/M machine.
David Harrison (and son Alex) with some of their 90's Windows gear
Dave's gear wasn't as vintage as many other items, but he has to downsize and was hoping he could pass some of it on to others in the hobby. "Wintel" boxes and other gear to support them was on display.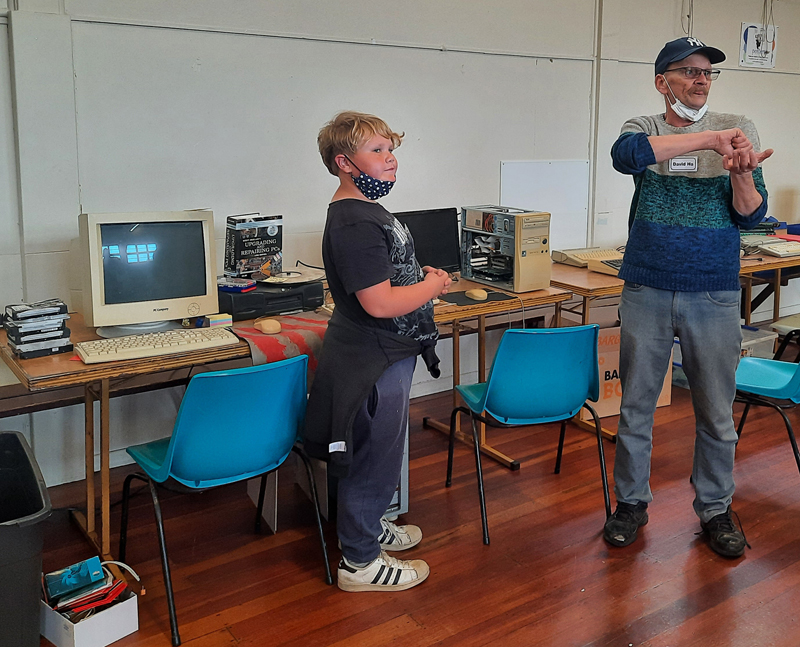 Pic 27. Dave explains what's on offer
Evan Thompson's Ataris
Evan had a number of generation of Atari 8-bits on display, namely an original 800, an 800XL, an 130XL and an Atari XE Game System with keyboard. It was good to see these models all together as a family.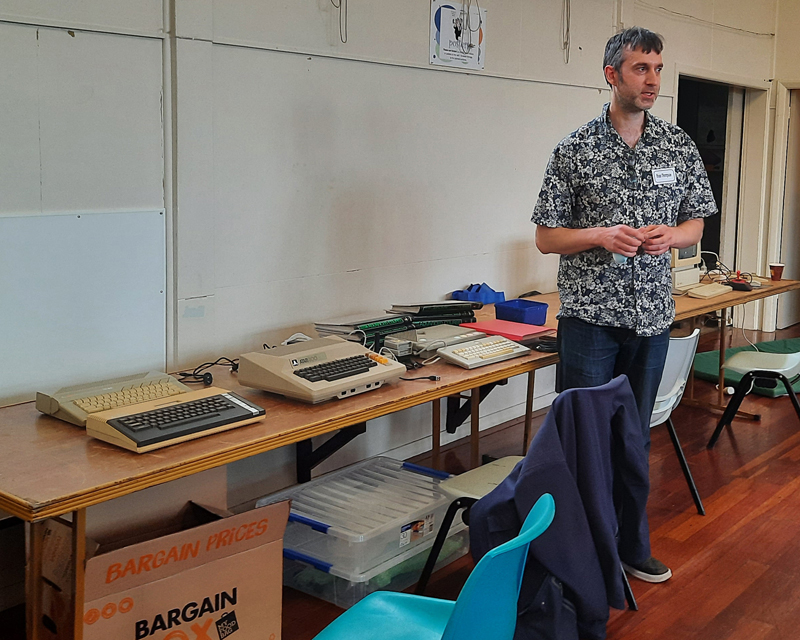 Pic 28. Evan goes through his Atari garden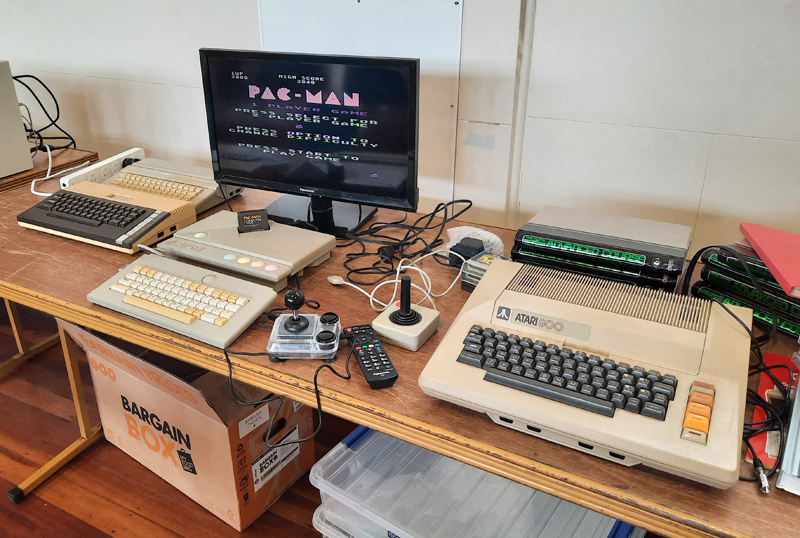 Pic 29. Visitors could enjoy the original Atari Packman on Evan's Game System
Kirk Jackson's Vectrex
This is another of those game consoles I'd heard about but never seen. It's notable in that it uses its own vector display instead of needing to be hooked up to a separate monitor or a TV. Also, games often came with coloured overlays that could be placed over the screen (see Picture 32 below). By chance Evan Thompson (see above) owned some Vectrex overlays and games, and he bought them along supplement the single game (Mine Storm), which was built into the machine.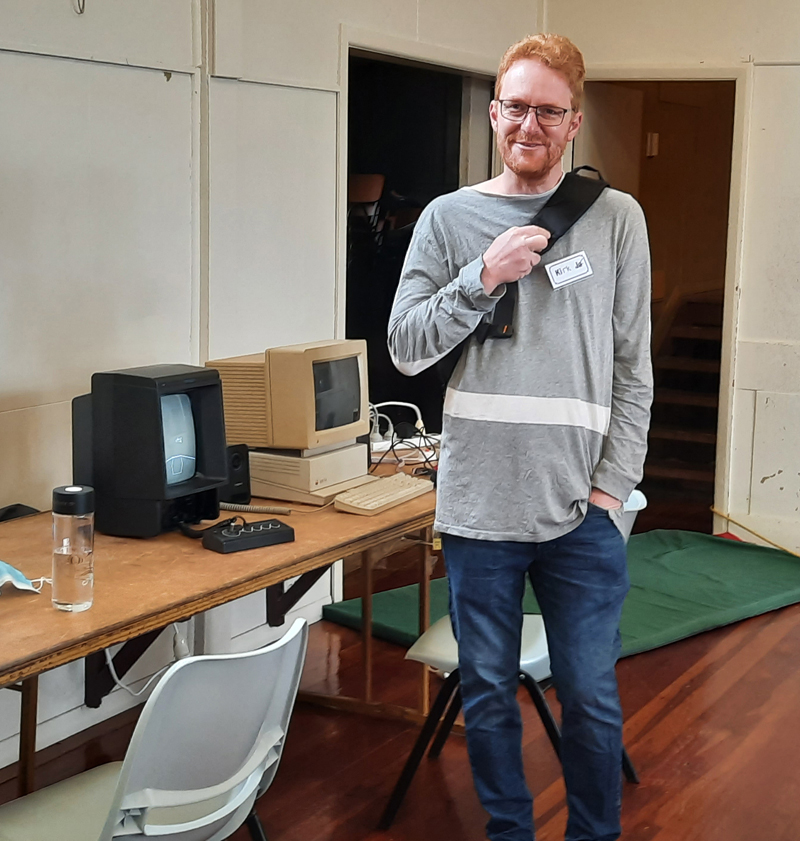 Pic 30. Kirk explains the quirky vectrex home video game console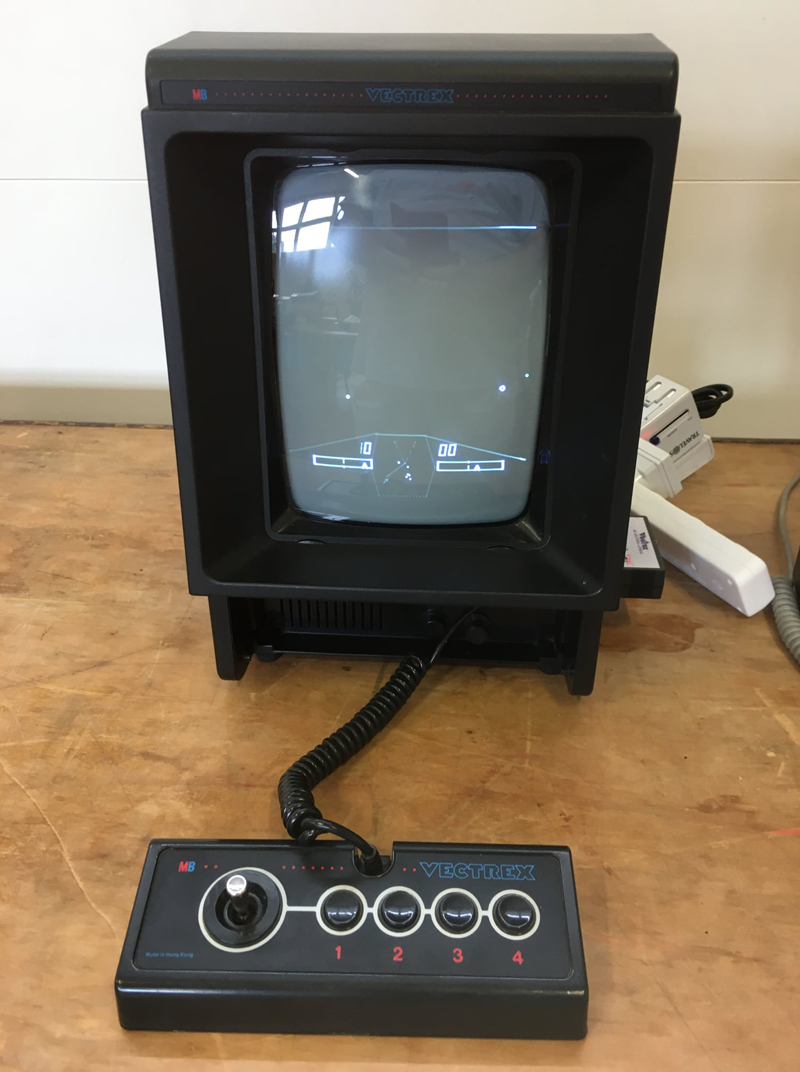 Pic 31. The Vectrex (Photo by Duncan Anderson)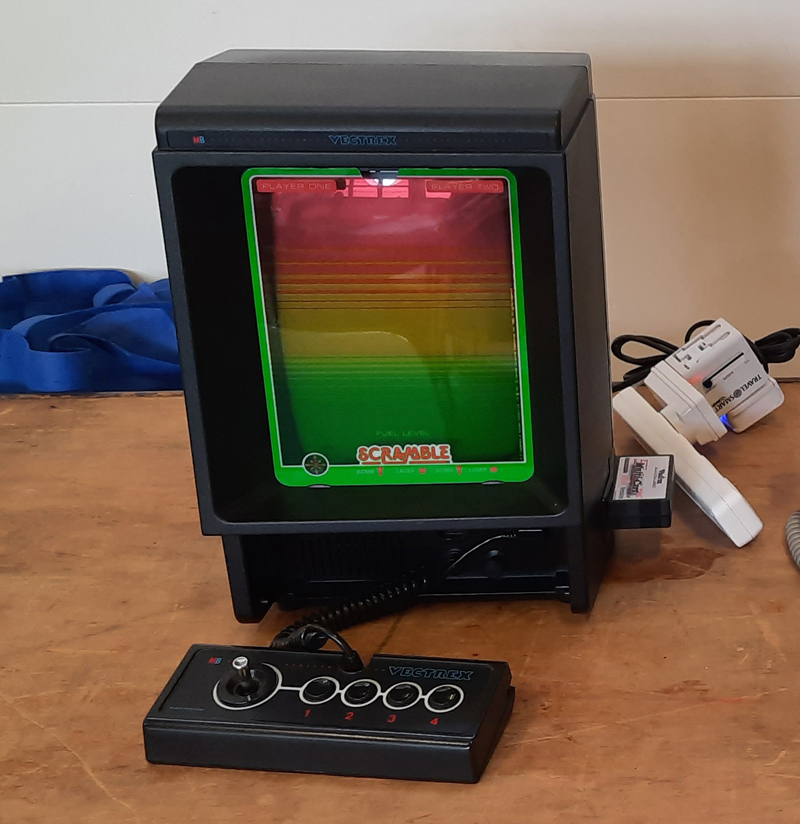 Pic 32. Vectrex game using coloured overlay
Duncan Anderson's Apple IIGS
I used to own one of these and consider them great machines for the Apple II enthusiast. Not only is the hardware more advanced and reliable (and comes with GS/OS) but also completely compatible with Apple II software. Really they are two machines in one. This one has a solid state storage solution fitted.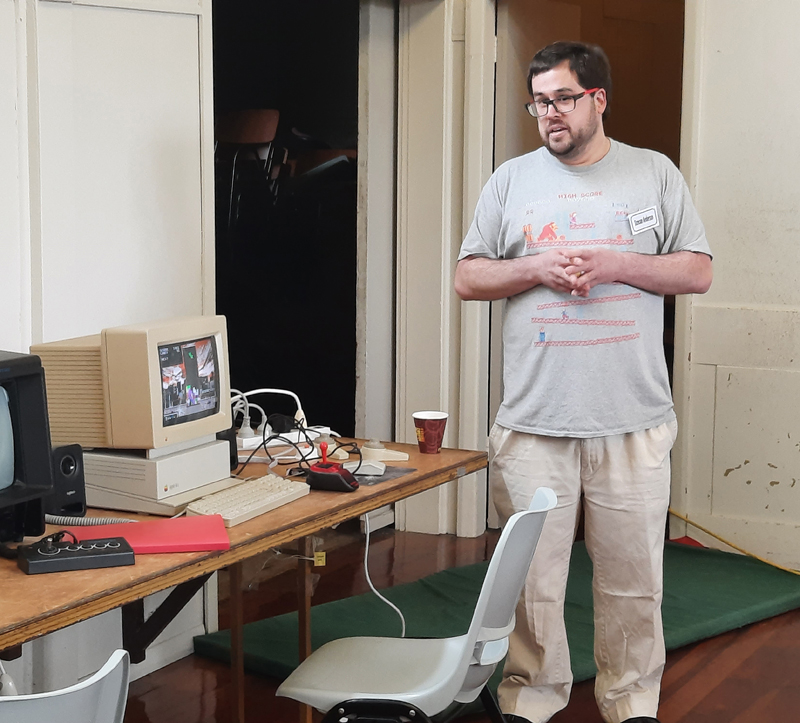 Pic 33. Duncan waxes lyrical on his Apple IIGS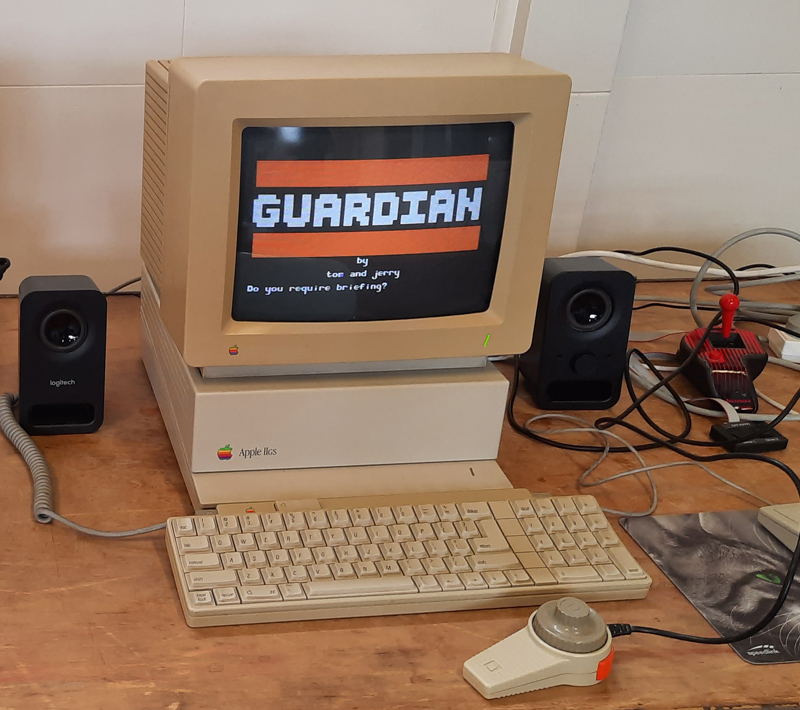 Pic 34. Apple IIGS
Andrew Stephen's world of Sinclair
Andrew was unable to make the event in the morning, so he didn't give a formal "show-and-tell". He had plenty of gear to show off later though. Andrew is a keen Sinclair fan and his display reflects this. There were many different models being demoed. Particularly intriguing was a portable TV receiving Sinclair advertisements broadcasting from Andrew's own pirate TV radio station amongst the displays!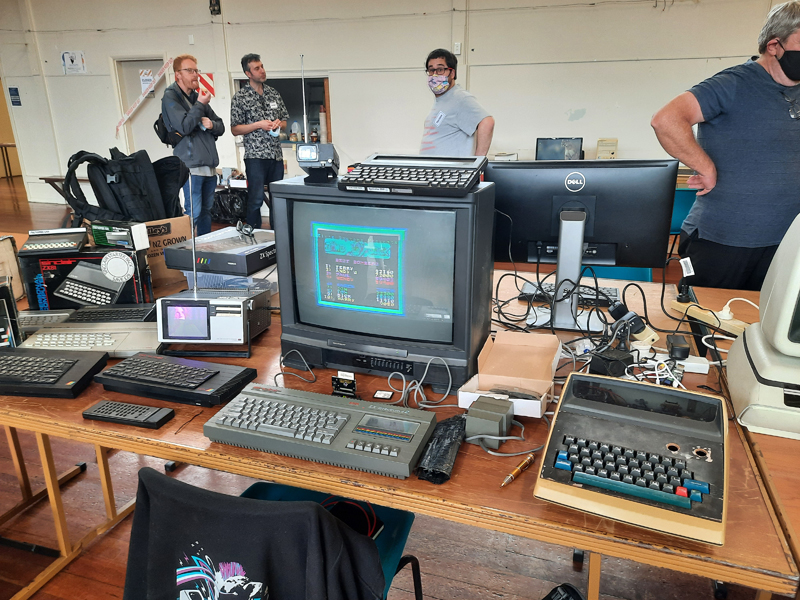 Pic 35. The many computer products of Sinclair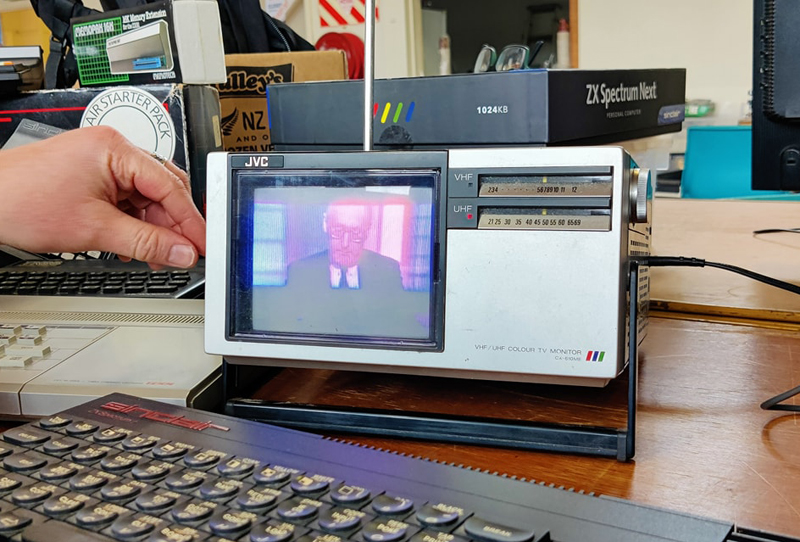 Pic 35. Clive Sinclair makes an appearance (Photo by Alistair Ross)
A good day out
After the formal presentations, people did indeed stick around chatting and further engaging with the exhibitors and exhibits. The event started to wind down about 3pm, with people starting to pack up and trickle out.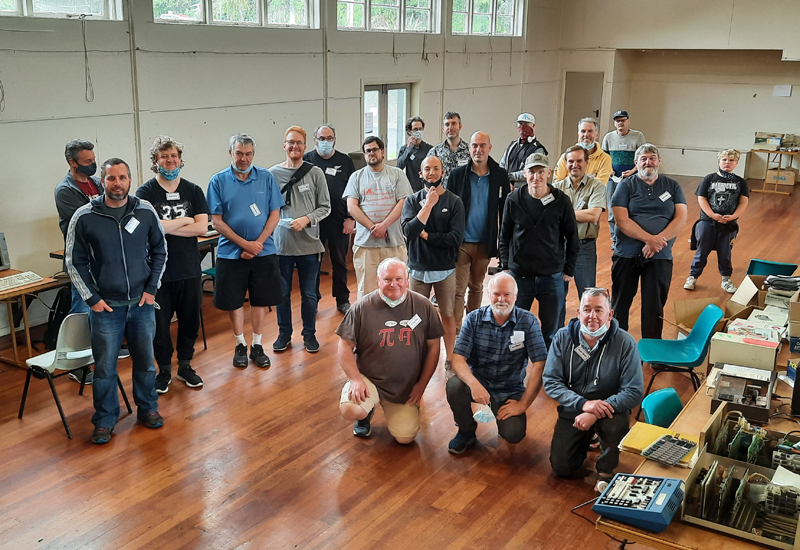 Pic 36. All attendees minus two. One hadn't arrived and one was behind the camera
Twenty three people in total attended. It was a very successful day. Many thanks to Dave for organising the event and to Alistair and Duncan for the use of some of their photos in this report.
These meetings are likely to become regular occurrences down here in the lower North Island.
Terry Stewart
26th October, 2021
Update 1st Nov, 2021. Alistair (Ross) has also produced an excellent video detailing the event. Worth a look!