A downloadable software library for real or virtual Exidy Sorcerers
Why this archive?
Prior to this page, Internet-sourced software for Sorcerer owners could be hard to get. Such software was often:
dispersed amongst emulators and ad-hoc uploads
in WAV format but at 1200 baud, which required a very (very!) narrow volume range for successful loading
in SNP or BIN format which couldn't be used in real machines
In response to this I put together this dual-speed WAV archive. It includes most (but not all) programs "in the wild" plus rescued files from my own tapes and some literature. The process involved will be the subject of a blog article sometime.
Format
Files are presented in two formats. The 300 baud files should load reliably into a real Sorcerer. The 1200 baud files will load into the JSorcerer emulator and MESS/MAME, but won't load easily (if at all!) into a physical machine. My advice is to use the 300 baud files for stocking up a library for a real Sorcerer and/or use the 1200 baud copies as a source of software for the emulators mentioned above.
The WAV filename shows the name of the software and, if known, the year, author and publisher. It also shows whether the program needs the BASIC RomPac inserted and the baud rate it was recorded at.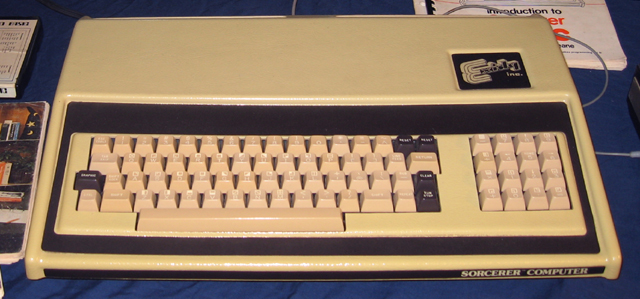 Figure 1. My own Exidy Sorcerer I
Driving instructions
For those unfamiliar with the Sorcerer, this should get you started with the real machine. I'm assuming the 300 baud files are being used. Choose either of the two options...
1. If the program does not require BASIC, type "SE T=1" at the > prompt and press RETURN (This puts the cassette interface in 300 baud mode rather than 1200 baud (the default)). Then type LOG (this stands for Load and Go) and press RETURN. Then activate PLAY on whatever device your WAV file is loaded into. Once loaded the program normally autostarts.
or
2. If the program requires BASIC, insert the ROM PAC before you switch on. You then need to go into the Monitor program to change the cassette speed from the 1200 baud default. At Ready prompt type "BYE" and press RETURN. Then type "SE T=1" at the > prompt and press RETURN. Then type "PP" and press RETURN. This should get you back to Ready prompt. Then type "CLOAD" and press RETURN. Then play the WAV file on your storage device. Type "RUN" and press RETURN when the program has loaded.
If you are using an emulated Sorcerer, use a 1200 baud file and omit the SE T=1 step(s).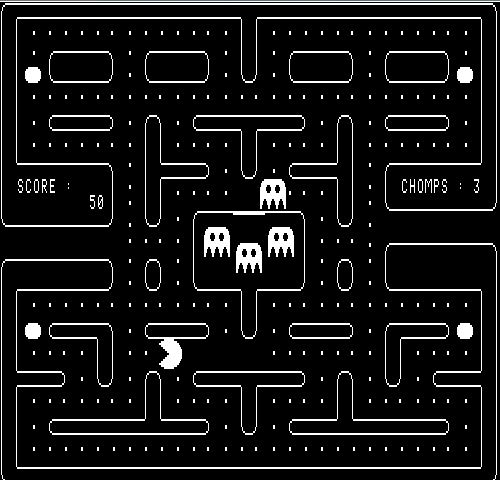 Figure 2. Chomp. A Pac-man clone showing the graphic capabilities of the Exidy Sorcerer
The archive
As mentioned above, 300 baud is best for a REAL Sorcerer, 1200 baud is best for emulators (JSorcerer/MESS/MAME). A few programs have instructions as a separate download. There may be other files added to this archive in the future, which is why I've included an upload date.
Some files were extracted from BIN archives. This means when making the WAV file I had to make up an appropriate name in the header. This may not be the name used in commercial tapes of the program, something to note if this collection is ever used by future archivists. Programs of this nature have an asterisk (*) after the name.
Feel free to send me programs that are absent, missing information, or corrections. Enjoy!
Those interested in CP/M for the Sorcerer might be interested in these disk images (and other files) prepared by Larry Kraemer.
Finally...here are a few Australian Sorcerer resources I scanned which might be of interest...
Updates (latest first):
2nd September, 2018 - Added the manual for Ezyfile Database System. Supplied by Michael Borthwick. Also added CP/M disk images supplied by Larry Kraemer.
7th August, 2018 - Added instructions for Chomp, Defender, Martian Invaders, Galaxians, Interceptor and Nike II. Supplied by Michael Borthwick.
6th June, 2018 - Added The Count, a Scott Adams game.
5th June, 2018 - Added Flite and Nike II, also supplied from Paul van der Spek.
30th May, 2018 - Added Debug. Thank you Paul van der Spek. Also added Voodoo Castle. Thank you "tempest", VCF.
1st Feb, 2017 - Added The Amazing Maze. Pointed links to the updated Arrows and Alleys, Air Traffic Controller and Astro Attacker manuals.
31st Jan, 2017 - Added Kilopede.
29th Jan, 2017 - Added the instructions for Arrows and Alleys and added original instructions for Air Traffic Controller and Astro Attacker. Added the author for Galaxians and noted that Interceptor is a Scrambler clone (Thanks Michael Borthwick). Also added this update section.
Tez
29th January, 2017