Issue 1 (September, 1982)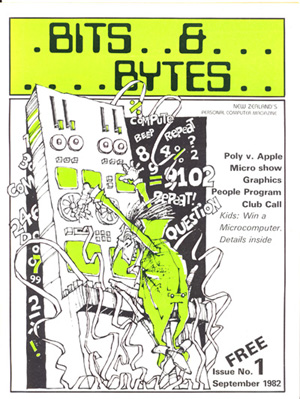 Here it is, the very first one. In this issue you will find...
Specifications of New Zealand's very own Poly microcomputer and several articles about the Poly vrs Apple fight for the NZ school market.
A feature on the Kellogg farm software unit at Lincoln College (now Lincoln University) (Articles on Farm software were regular features in NZ Bit & Bytes in the early days.)
An article on the ins and outs of computer graphics
A BASIC program listing for mixing people at social functions
Reports on a Micro show in Auckland
A micro enthusiasts guide to micro shopping in Sydney
Microcomputer club news
An article on a home-grown communication package called ALBRAN
A review of two Commodore disk drives
Hints on what to consider when buying a microcomputer
A computer glossary
A humourous article on computer obsession, comparing it to an infectious disease.
An Apple II diagnostic program (ApTest)
MicroPro Software
Experiences of one company using a word processor as a database
Support columns for the System 80, Apple II and Vic 20
...and the usual collection of classic computer advertisements!
This page last edited 12th July, 2008