Issue 3.7 (April 1985)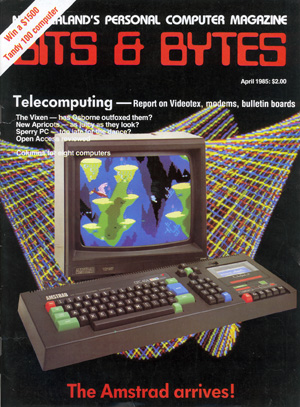 In Volume 3, Issue 7, along with news, editorial comment, book reviews, letters, club contacts and a glossary, you will find...
An interview with Steve Wozniak (part 2)
Telecommunications

Videotext - What is it?
Why and wherefore of modems
Tapping the Bulletin Boards

Review of the Amstrad CPC464
Review of the Osborne Vixen
Review of the Sperry PC
Review of the ACT Apricot Model F1
Open Access and a comparison of four Integrated Packages
A Chinese word processor on the BBC
A teacher swaps the classroom for the commercial world
Columns for

Apple: Scribe thermal transfer printer
Atari: Why the Atari product shortage and a thriller on ice
BBC: Authoring languages, Acornetti and Beta-Base database manager
Commodore: C16 and Plus 4. A case of smart marketing
Sega: Help with your business programs
TRS-80/System 80: A tale of DOS (actually, NEWDOS)
ZX81: Minotaur's Maze
...and the usual collection of classic computer advertisements!
This page last edited 31st May, 2009