Issue 3.8 (May 1985)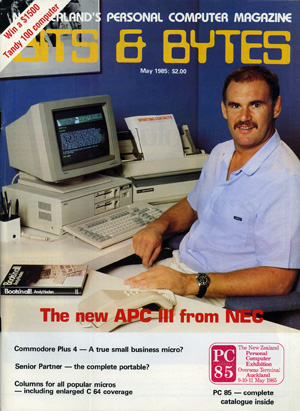 In Volume 3, Issue 8, along with news, editorial comment, book reviews, letters, club contacts and a glossary, you will find...
The start of a series on accounting software
PC 85 Exhibition catalogue
Review of the NEC APC III
Review of Panasonic's Senior Partner
Review of Commodore Plus 4
Filevision database manager
The minimal impact of the computer in schools
Machine Language for the 6502 processor
Columns for

Apple: An Appleworks love affair
Atari: Graphic excellence
BBC: Microtext v Proforma
Commodore: Programming morsels
Commodore 64: Moving pictures
IBM: PC Junior Cut - A big "blue"?
Sega: Sort of names
Spectravideo: Games reviewed
Spectrum: Introducing machine code
...and the usual collection of classic computer advertisements!
This page last edited 1st June, 2009