Issue 8 (May, 1983)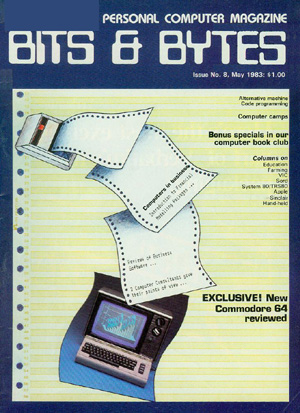 In Issue Eight, along with editorial comment, letters, club contacts and a glossary, you will find...
A report on DBASE II
Financial modelling packages
Setting up a computerised system
Gemstock for a Sord. A jeweller's tale
Two business consultants share their views
A review of the Commodore 64
Why are computers so expensive in New Zealand?
A cost-benefit analysis of computers down on the farm
Computer camps
Network options for schools
An article on the thirst for computer knowledge
Basic BASIC (part 7)
Alternative to machine code programming
Memory addressing
Orbital predictions (program listing)
Book Reviews
Support columns for the

PET (fast graphics), Apple (Hex to Decimal), Sord (Printer Status check), Handhelds - Sharp PC1211 (Torus), System 80/TRS80 (quicksort routine), ZX-81, BBC Micro (multiple programs)
...and the usual collection of classic computer advertisements!
This page last edited 18th July, 2008