Issue 6.3 (November 1987)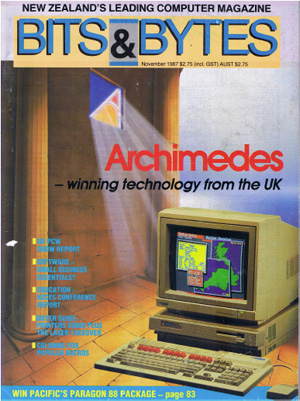 Issue scanned by Richard Goulstone
(Many thanks Richard!)
In Volume 6, Issue 3 along with letters, Q+As, a crossword and classifieds you will find...
News, gossip and snippets from the industry
Hardware reviews of:

The Acorn Archimedes
The Data General One/Model 2T
The Office Automation Link PC card

Software reviews of:

Able One: An integrated software package
In-House Accountant
Direct Access: A menu system for hard disks
DataCAD: For architects' eyes only?

A review of the Personal Computer World Show (PCW) 1987
Computers in Education

The 2nd national Computers in Education Conference
Computers in secondary schools - the next step
Musings on the future (Anyone's guess)

Speaking in tongues - Turbo BASIC and Turb Prolog
A preview of Compaq 80386 offerings
Laser printing technology

the nitty gritty
Not just for desktop publishing

Printer roundup - Part 3. Printers over $5000
How to reduce printing operating costs
Control programs (multi-user systems) for the 80386
Using the function keys in Lotus 1-2-3
Notes on UNIX
Who wants to be a Mac developer?
Columns for

MS-DOS - Screen menus
Sanyo - Loading GET arrays in BASIC
Amstrad - The Fog Index (program listing)
Commodore - More adventures
...and the usual collection of classic computer advertisements!
This page last edited 14th June, 2015