Issue 5.1 (September 1986)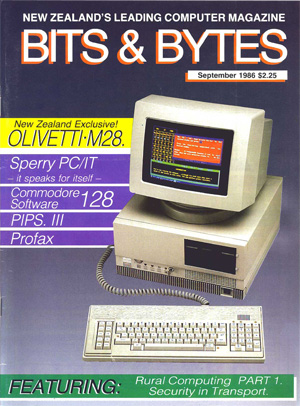 In Volume 5, Issue 1 along with letters, the bookclub and classifieds you will find...
News, gossip and snippets from the industry
A review of the Olivetti AT
A review of the Sperry PC/IT
1986 Christchurch Computer Show Catalogue
The business user's dilemma. A review of PIPS III
Review of Profax - Integrated accounting at its best
Working partners for the Commodore 128. Reviews of:

Swiftcalc 128
Data Manager 128
WordWriter 128

Domesday: Geography (and much else) will never be the same (article)
How secure is your computer? (article)
Rural computing

Overview
Today or tomorrow. The farmer who waits...
Tomorrow's use of microcomputers

Micros at work - PC AT creating the standard
Education - Achieving success with software
Multi-user update
Questions and Answers
Machine Language - Polydimensional arrays
Columns for

Apple - Helping words with WPL
Amstrad - Laser for speed
Atrari - Getting started on the Atari ST
BBC - The enigma of the 512
Commodore - Useful disk operations and the Type Utility: Part 2 - use of multiple input/output devices
...and the usual collection of classic computer advertisements!
This page last edited 25th March, 2012