Issue 2.8 (May 1984)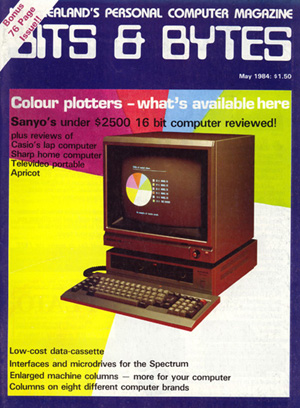 In Volume 2, Issue 8, along with news, editorial comment, letters, club contacts and a glossary, you will find...
Plotters available in New Zealand
Computing for astrologers
Independent importers get up the nose of national computer distributors
Telecomputing - Krackowicz, daddy of the pirates
Are you entitled to the 10% sales tax rebate?
Artificial Intelligence - Quest for an intelligent machine
Education - Games as a tool in the classroom
Review of the Casio FP-200 handheld
Review of the Sharp MZ700
Review of the Apricot. An elegant 16-bit machine from Britain
Review of the "luggable" Televideo
Review of the Sanyo 550/555
Review of the Zeta-C682 cassette deck
Programs for Spectrum
An introduction of FORTH, Pascal and C
Disks 2: Physical aspects
Support columns for the

Osborne (Teach yourself typing)
ZX-81 (three arcade games)
System 80/TRS80 (MultiDOS)
Spectrum (Microdrove Interface 1 and 2)
Apple (Screen layouts)
Commodore 64 (Looking after your machine)
Sega (Getting to know your machine)
BBC Micro (Menus and ROMS for graphics)
...and the usual collection of classic computer advertisements!
This page last edited 9th October, 2008