Issue 5.10 (July 1987)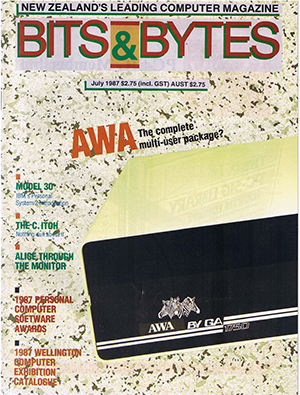 Issue scanned by Richard Goulstone
(Many thanks Richard!)
In Volume 5, Issue 10 along with letters, Q+As, a crossword and classifieds you will find...
News, gossip and snippets from the industry
Hardware reviews of:

the Zebra/AWA 1750: Designed for the Pick multi-user operating system
The IBM PS/2 Model 30
The C. Itoh C-310 and C-315 printers

Software reviews of:

Aston-Tate's RapidFile: A simple database management system
Alice: A Pascal Interpreter for MS-DOS

The Psychological Factor: Reflections on recent sharemarket volatility
The Microworld of Inner Space: An exhibition showcasing NZ computing
Information on the 1987 Wellington Computer Exhibition
The 1987 software awards: Winners and review.
Education: Musing on the Archimedes
Videotext. Do we need it?
Columns for

MS-DOS - Explaining the DOS System
Macintosh
Commodore

The Commodore 64 for recreation
Adventure game writing (pt 3)

Atari
Spectravideo - The MSX Standard. Here to stay?
6502 Machine language
...and the usual collection of classic computer advertisements!
This page last edited 27th April, 2015