Issue 6.1 (September 1987)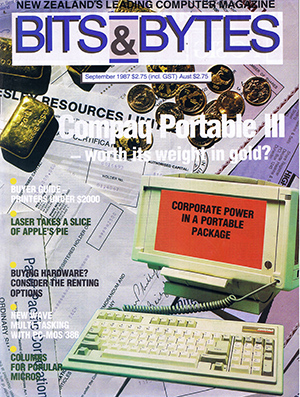 Issue scanned by Richard Goulstone
(Many thanks Richard!)
In Volume 6, Issue 1 along with letters, Q+As, a crossword and classifieds you will find...
News, gossip and snippets from the industry
Hardware reviews of:

The Video Technology Laser 128 (Apple IIC look-alike)
Cauzin Softstrip Reader by Verbatim
The Compaq Portable III
The Hercules InColor card
The Spectravideo SVI-640 IMB 8088 Compatible

Software reviews of:

General Optimization Inc's What's Best: Taking the spreadsheet further...
PC-MOS/386: A multiuser DOS
The Complete PC Tutorial from Intouch Computing
DBXL: A dBASE III clone

To buy or not to buy? Renting a computer
Printer roundup - Part 1. Printers under $2000
Printers: The hidden costs
Multiuser operating systems for the 80-386
Software Piracy - The debate continues: Try before you buy
New Zealand personal computing post-election: Where the Parties stand.
Rural Computing. The next phase in electronic weighing
Communications software
Columns for

MS-DOS - Review: The Peter Norton Programmers Guide to the IBM-PC
Macintosh - MacDevelopers Conference
Commodore

Freeze and Reset buttons for the C64
Passing values to BASIC from a machine language routine

6502 Machine language - To BCD or not to BCD
Amstrad - Assisting with program conversion
...and the usual collection of classic computer advertisements!
This page last edited 7th June, 2015