Issue 4.3 (November, 1985)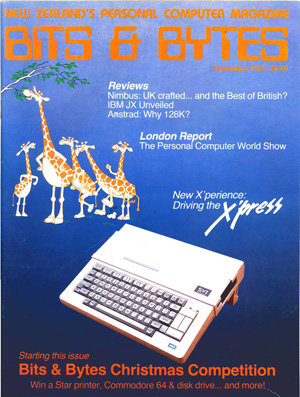 In Volume 4, Issue 3, along with news, editorial comment, book reviews and letters, you will find...
Personal Computer World Show - We were there!
Price War - Opening shots from Commodore
Review of the IBM JX
Review of the Amstrad 6128
Review of the Spectravideo X'press
Review of the Nimbus (PC-Clone)
Review of Opus Disk Drives for the Spectrum
Software review - An adventure game for computer classes
Computer competition for a C-64 pack
Toolbox: Filling in the gaps of our BASIC database
Assembly language in CPM - Part 2
Machine language routines for the 6502
Columns for

Amstrad
Apple
BBC
Sega
Sanyo
Spectravideo
Commodore
Spectrum
Atari
...and the usual collection of classic computer advertisements!
This page last edited 22nd December, 2009