Issue 5.2 (October 1986)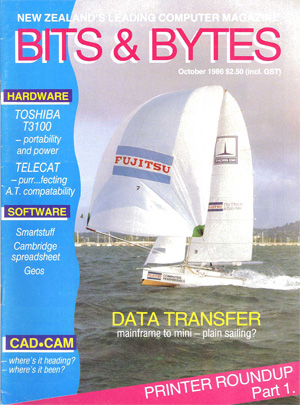 In Volume 5, Issue 2 along with letters, the bookclub and classifieds you will find...
News, gossip and snippets from the industry
A review of the TeleCAT-286
A review of the Toshiba T3100
Muti-User: UNIX
A review of Startstuff's pop-up desk tools
A review of Cambridge Spreadsheet Analyst
A review of GEOS on the Commodore 64
Micros vs mainframes
A review of the Thron-EMI 9800 tape drive
CAD/CAM - Where has it been and where is it going?
A review of the Amiga Draw package for CAD
Roundup of printers available for under $2000 (Part 1)
Rural computing

Computers in the rural sector - Does a farm computer pay?
Who is writing farming software?

Questions and answers
Machine language - SEQuential data
Columns for

Apple - Controlling the RESET key
Spectrum - Spectrum machine code
Commodore - Subroutines for manipulating a disk file status (The TYPE utility part 2) and a review of Microcal's CP/M tutorial
Amstrad - Reviews of the Cirkit modem and the Winter Olympics game
BBC - Bit-mapped graphics menus
...and the usual collection of classic computer advertisements!
This page last edited 7th April, 2012