Issue 4.2 (October 1985)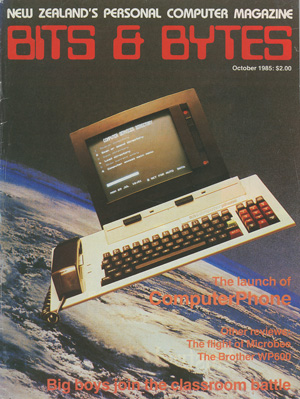 In Volume 4, Issue 2, along with news, editorial comment, book reviews, letters, club contacts and a glossary, you will find...
PC Manufacturers compete in the classroom
Logging onto bulletin boards and Pestel
Videotext and electronic banking
Review of the Brother WP600 electronic typewriter
Review of the Microbee - Aiming at New Zealand Schools
Review of the Computerphone
Software review - Managing Home Accounts
Assembly language programming using CP/M
A minimal database in BASIC
The use of flags in machine language
How to use VDTs and stay healthy
Columns for

IBM - It's an IBM Compatible world
Sanyo - DEBUG and other MS-DOS things
Amstrad - Amstrad news
Sega - Practicing BASIC with some simple programs
MSX - Game reviews: Golf, Mr Ching and Tennis
Apple - Printing the LOGO screen and some Apple education news
Atari - Game review: Seven cities of Gold. Also Atari news
BBC - 128k upgrade for BBC plus other news
Commodore - Dump a C-64 picture to your printer, a game review, Fast Load Cartridge, a Pharmacy program, a line graph program and Commodore news
Spectravideo - How do the 318/328 stack up alongside the MSX versions? Also a game review, Roger Rubbish
Spectrum - Disk drives and a musical key finder
...and the usual collection of classic computer advertisements!
This page last edited 5th October, 2009