Issue 6.2 (October 1987)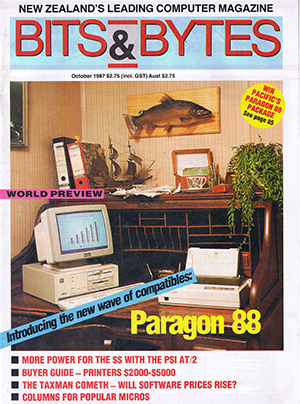 Issue scanned by Richard Goulstone
(Many thanks Richard!)
In Volume 6, Issue 2 along with letters, Q+As, a crossword and classifieds you will find...
News, gossip and snippets from the industry
Hardware reviews of:

The Mitac Paragon 88 - a fast PC/XT clone
The Gammafax board: Faxing to and from your PC
The PSI AT/2 - A fast 286 PC/AT clone
The Panasonic KX-P1083 printer
The Star NB24-15 printer

Software reviews of:

Remarkable Enterprise's Remarkable Payroll
VP-Info

The Taxman cometh - Computer companies and the IRD
PC use in Air New Zealand
Printer roundup - Part 2. Printers under $5000
EPD Security - whose responsibility?
Tips for desktop publishers
A Unix view
Reflections on computers in agriculture
Programming: Sorting routines
Columns for

MS-DOS - Editing in DOS
Apple - RAM disks and dynamic data structures (Part 2)
Atari

The Vertical Blanking Interrupt (VBI)
80 column text

Commodore - A borderline program
Sanyo - The Mandelbrot set fractal
...and the usual collection of classic computer advertisements!
This page last edited 7th June, 2015