Issue 6.4 (December 1987/January 1988)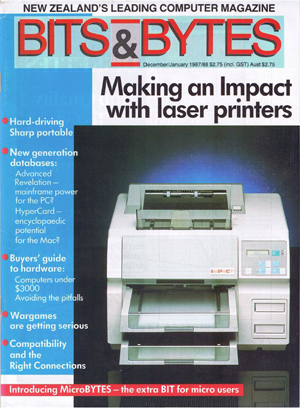 Issue scanned by Richard Goulstone
(Many thanks Richard!)
In Volume 6, Issue 4 along with letters, Q+As, a trivia quiz, crossword and classifieds you will find...
News, gossip and snippets from the industry
Hardware reviews of:

The LS800-03 and L1500-02 laser printers from Impact Systems Ltd.
The Sharp PC-7100 portable computer

Software reviews of:

Apple Macintosh HyperCard
Advanced Revelation - A database package
Minister of Finance. A simulation for economics students

Connectivity (Part 1): What all those plugs and sockets at the back of a PC actually do.
Just how compatible is an IBM-compatible?
Tips on buying a computer
Hardware roundup (Part 1) - Computers under $3000
Financial instruments: Options and Warrants
British Microcomputing Awards 1987
Writers in computer companies
Privacy and access control in UNIX
Some techniques in Pascal
Book review - Newnes Computer Engineer's Pocket Book by Michael Tooley
Columns for...

MS-DOS - Low cost utilities
Commodore 64 - Lingscrol
...and the usual collection of classic computer advertisements!
This page last edited 24th July, 2015