Issue 5.11 (August 1987)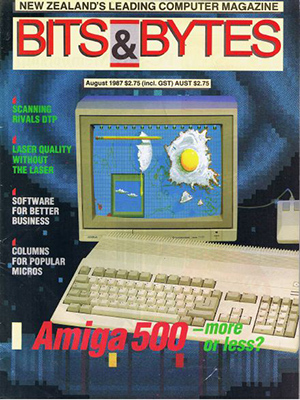 Issue scanned by Richard Goulstone
(Many thanks Richard!)
In Volume 5, Issue 11 along with letters, Q+As, a crossword and classifieds you will find...
News, gossip and snippets from the industry
Hardware reviews of:

The Canon IX-12 scanner
The 20MB Plus Hardcard
The Commodore Amiga 500
THE NEC LC-800 LED printer
Epson PC/AX (an IBM PC/AT clone)

Software reviews of:

R:Base System 5 (and a comparison with dBase III Plus)
Aldus Pagemaker for the Mac and PC

Treating people like numbers in the quest for efficiency. Not a good thing!
Software piracy: The complaint and the replies
Education: Where in the world is Carmen Sandiego?
Five easy steps to desktop publishing
Communications - Calling all BBS users
Columns for

Sanyo - User-defined characters
Macintosh MORE - An outline processor
BBC - Problems of communication
Apple - Expanding your Apple II
Amstrad - BASIC timing routines
Commodore - Computer quests
Games

Championship Golf for the IBM PC
Trivial pursuit for the Atari

Atari - System variables
MS-DOS - Dottiness about directories
6502 Machine language - Go FORTH. Multiply and divide
...and the usual collection of classic computer advertisements!
This page last edited 17th May, 2015