Issue 2.11 (August 1984)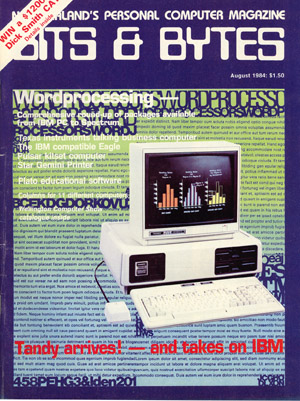 In Volume 2, Issue 11, along with news, editorial comment, letters, club contacts and a glossary, you will find...
A guide to Word Processing software
Computers for business forecasting. Humans can do better
C64 business software
Review of the TI professional and speech synthesis and recognition package
Review of the Tandy 2000
Review of the Eagle Spirit XL
Review of Pulsar's Little Big Board. A do-it-youself CP/M machine
Educational package Plato in the classroom
Operating Systems
Disks 5: Typing file sectors together
Columns for

Spectravideo
Apple: A mouse for the II family
Atari: Boyfriend vrs dieting ape
BBC: Econet network in action
Commodore 64

A new machine
Bad subscript errors and arrays

Microbee - A new disk controller
Polys: In action at a Rotorua school
TRS-80/System 80: Printing labels for your disks
Spectrum: Joysticks and interfaces
ZX-81: Mastermind
...and the usual collection of classic computer advertisements!
This page last edited 3rd March, 2009