Issue 4.9 (June 1986)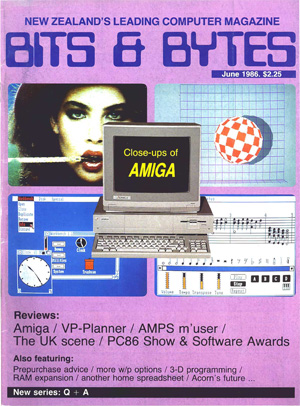 In Volume 4, Issue 9 along with letters, the bookclub and classifieds you will find...
News, gossip and snippets from the industry
A PC 86 show report
A Review of the Amiga
Review of Osbourne Software's VP-Planner
Review of Micropro's Easy word processor
Multiuser systems - AMPS
Home micro market in the UK. Going, gone? (Article)
Steve Wozniak and Andy Hertzfeld interview
Micros at work - How to assess computer needs
Questions and Answers section
Machine Language - Notes on the Riteman C+ missing listing
Pascal Programming - User defined data types
Columns for

Sega - Grappling with 3-D graphics
Atari - 256k and beyond? Spartados Rambo XL memory upgrade, deletions and removal utility (a listing) and a review of the game Identity Quest
Spectrum - Four childrens books for the Spectrum
Spectravideo - Tips on shrinking programs
IBM - Circular polarizers for monitors and an IBM fingertrap routine (listing)
Apple II - Reviews of Practicorp International's Practicalt II spreadsheet and the Sandy Word Processing System
Amstrad - Word processing options for the Amstrad
BBC - A day in the fens. A visit to Acorn headquarters
Commodore - Construction of numeric keypads and some games reviews (Battle Through Time, Space Pilot, Gates of Dawn, Sorcery, Lazy Jones and Gettoblaster)
...and the usual collection of classic computer advertisements!
This page last edited 25th March, 2012