Issue 5.7 (April 1987)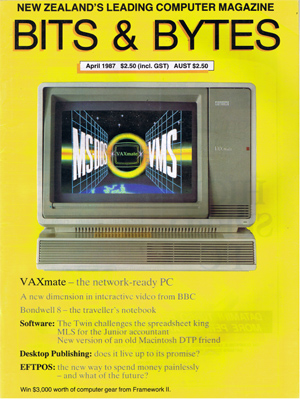 Issue scanned by Richard Goulstone
(Many thanks Richard!)
In Volume 5, Issue 7 along with letters, Q+As and classifieds you will find...
News, gossip and snippets from the industry
Desktop publishing part 2

The cold reality
What to look for in a laser printer

EFTPOS and the evolution of banking
Lotus lawsuits discussed
A review of the DEC Vaxmate, a PC-compatible for Decnet networking
The BBC doomsday project; its New Zealand potential
A review of the Bondwell 8 laptop
A review of Dick Smith's Typewrite, a hardware/software combo for teaching keyboard skills
A review of Ready, Set, Go, a desktop publishing package for the Macintosh
A review of The Twin. An integrated Lotus 1-2-3-like office package
A review of MLS Junior, a PC-based version of MLS Professional Accounting System package
A review of The Apple Macintosh Book
Musings on notebook sized laptop computers, like the Tandy Model 100 and Brother Portable EP 44
Uninterruptable power supplies
Reflections on planning the New Zealand Computer Education Society's National Conference
Rural Computing - Goat breeding recordkeeping
Modems explained
Columns for

Apple Macintosh - Regaining market dominance?
Spectrovideo - Creating new styles of text
Commodore - Adventure games (pt 1)
Atari - Speech recognition
BBC - Statistical packages
MS-DOS - Conditional branching in BATCH files
Sanyo - Differences to GW-BASIC
Machine language
Games
...and the usual collection of classic computer advertisements!
This page last edited 1st April, 2015