Issue 3.5 (February 1985)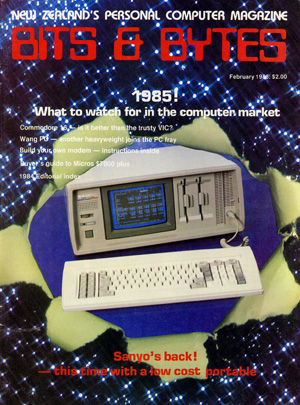 In Volume 3, Issue 5, along with news, editorial comment, book reviews, letters, club contacts and a glossary, you will find...
Buyers Guide part 3 - Computers over $7000
Predictions for 1985
An article on the cluttered world of IBM compatibility
The Dick Smith kitset Mega Modem
Review of the Wang Professional Computer
Review of the Sanyo MB 777 Portable
Review of the Commodore 16
Columns for

Apple: Snake gets good press and IIC has mice
Atari: Close encounter of the Joust kind
BBC: Where to now?
Commodore 64

A watershed year ahead
Those game prices

IBM: Data files in BASIC
Sega: Merging programs, storing variables and strings
Spectravideo: Benchmark times
Spectrum: Machine code routines
TRS-80/System 80: DOSes - a hot topic
...and the usual collection of classic computer advertisements!
This page last edited 3rd May, 2009